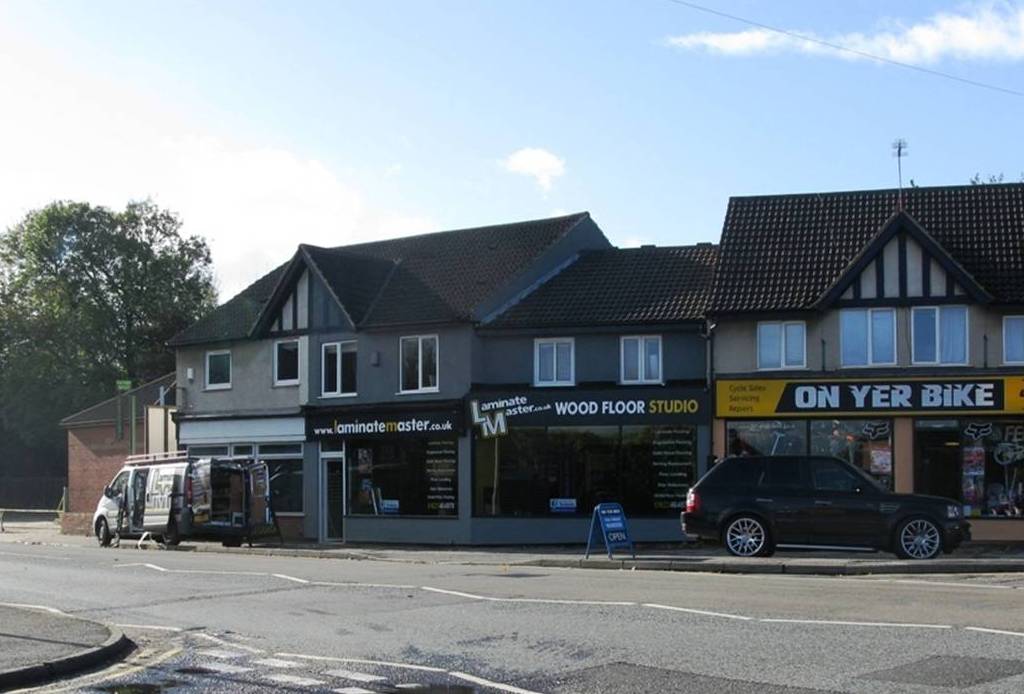 Landers started life in a small shop at 
the bottom of Yorke Street in 1913.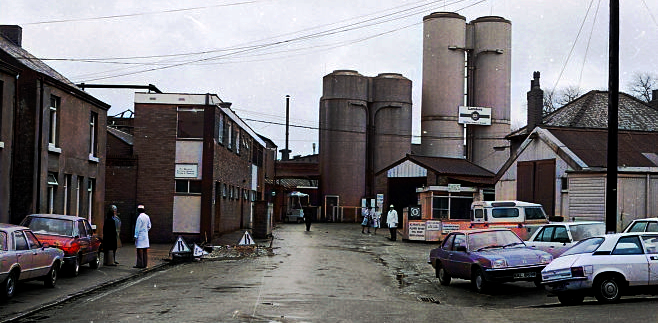 Between 1928 and 1941 Landers relocated to Oxford Street.
Percy Lander died in May 1949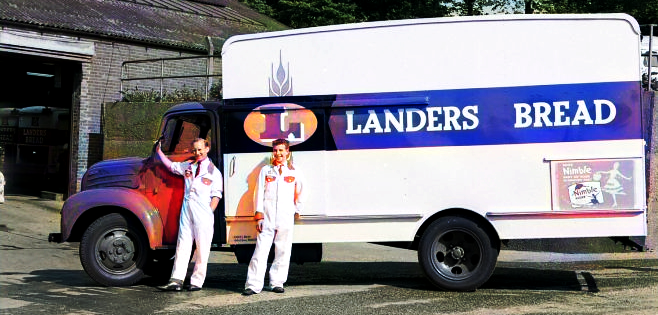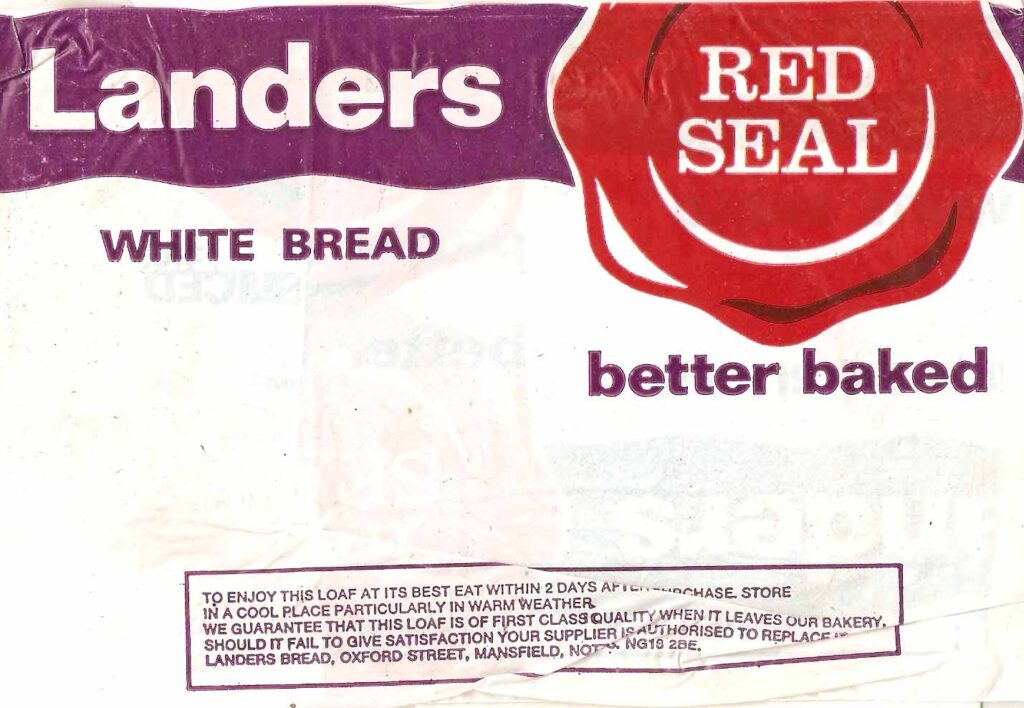 Traditional landers 'Red Seal' bread wrapper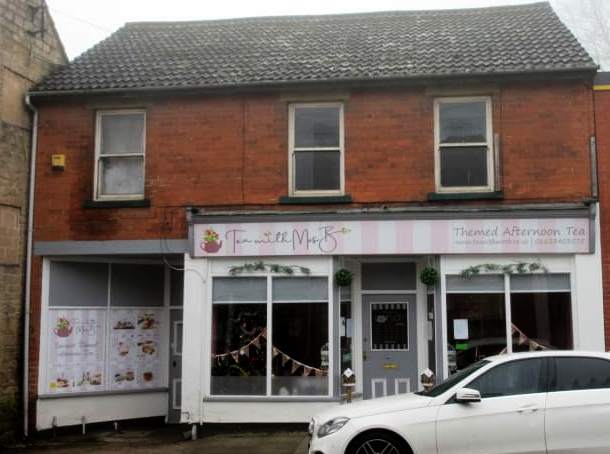 Whyles' Bakery was located on Station Street
'Often buttered, never bettered'
Why, I hear you ask would I write about Landers Bakery when it was a Mansfield firm?
Well its origins began at Mansfield Woodhouse, and many of it's work force were Woodhouse people.
The firm was started in 1913, by Mrs Sarah Lander at a small shop at the bottom of Yorke Street opposite the Black Bull Pub.
She started with one or two stones of flour that she baked into bread in a small building at the rear of the shop. When she died her sons, Percy and Theodore, carried on with the business. They are in the 1928 Trade Directory — Percy and Theodore Lander, of Yorke Street, bakers, telephone number 121. Whereabouts exactly was that first Lander's Bakery shop on Yorke Street?
New Premises
A piece of land on Oxford Street across the road was purchased and the new bakery was built sometime between then and 1941 for the Trade Directory of 1941 confirms that Percy Lander, baker, was at Oxford Street, Mansfield.
The firm had a shop on Leeming Street, Mansfield, and by January 1949 there were 12 wholesale bread rounds covering Mansfield, Kirkby, Ollerton, Hucknall, Shirebrook, Sutton, Blidworth, Bolsover, Worksop, Forest Town, Clipstone and Nottingham.
Percy Lander died in May 1949 and W. J. Brookes & Sons, of Manchester, took over in November of the same year. At that time there were about 70 to 80 people on the payroll.
In 1959 W. J. Brookes & Sons were taken over by the Rank Hovis McDougall Group (Incidentally Rank took over Whyle's Bakery, of Station Street, about the same time).
New Machine Installed
In 1965 a new machine was installed at Lander's bakery called The Baker Perkins Supertex Mixer, which reduced the time dough took to rise to less than 3½ minutes. When it was installed it was reputedly the first model of its kind in the world.
By 1967 there were about 800 employees, more than 50 retails rounds, 60 wholesale rounds and 20 shops in areas such as Nottingham, Derby, Grantham, Sheffield, Loughborough and of course Mansfield. In the Street Directories for 1958, 1972, 1974 and 1976, Landers Bread and Confectionery shop was at 34 Leeming Street, Mansfield. Could it be that as the large supermarkets came onto the scene, Lander's Bakery were losing their customers, because by 1981 the busin
ess had closed. I interviewed Charles Appleby in 2011, who had worked at Landers' Bakery from 1932 to 1941. Charles first job there was as a baker's assistant, then the main dough maker. He worked from 4pm to 5am.
Charles described huge girders to the top floor, where about 600 bags of flour were stored, with the top bakery having six ovens and the bottom bakery, two ovens.
Each oven plate could take 165 loaves of bread and each tin took 2lbs 4½ ozs (approx. 1kg) of dough and took 45 minutes to cook.
There were 15 rounds of scones on a tray, and 15 trays on a rack.
During the Second World War, Charles served in the Army Medical Corps following the troops through Africa into Sicily and Monte Cassino in Italy.
Returning home around 1946, he went to work at Whyles' Bakery, opposite the Post Office on Station Street.  It was here that Charles used to make egg custard tarts and yeasted goods. He remembered delivering bread to Mrs Green on Church Street. The bakery used to be called Stevens & Whyle.
Reading through the pages of the Chad each week, I have been able to compile a list of some of the people who worked at Landers Bakery through the years: Pamela Baker; Doris Ball; Sam Ball (worked 18 years as an area supervisor), Arthur Barlow (delivery lad), Leslie Bedford (there for 18 years), Lilian Bown, Hilda Brownlow, Derek Buck (there for more than 24 years),  Leslie Carter (Storeman until 1981), Alan Clark, Robert Clay (driver/salesman), Rhoda Cooke, Louis Crosby,  George Davis (baker), Joseph Davis (25 years), Irene Devney (throughout the 1960s and 70s),  Ronald Eveson (salesman from 1959 until 1981), William 'Bill' Fenwick, James Green, Alan Green (lorry driver), Albert Gunton (bakery operator or 20 years ret. 1964), Derek Halstead, (delivery driver), Elsie Hyatt, Winnie Jenks, Eric Latham, June McGarry, Iris Mitchell, Gerald Morgan, Thomas Noble, (baker for 30 years ret. 1981), Mary Nuttall (13 yrs), Phyllis Pincott (cleaner), Alan Poyser, Jeanette Shead, John Shuttleworth (1956 to 1977), Elsie Slater (cleaner, ret. 1971), Ronald Slater, John (Jack) Smith (23 yrs), Audrey Szczesny, Jesse Wallett (baker ret. 1969), Kenneth Ward (29 yrs), Audrey Wild (1965 to 1978), Jack Williams; Norah Wilson (office worker),  Frank Wilson (sales supervisor for 26 years), Wilfred Winterton (ret. 1980), Margaret Wood and Hilda Wood worked there during the Second World War.
Did you or any of your family work there? Have you any reminiscences and photographs of those years. If so, then please contact us.
Credits and sources:
Chad Newspapers – A letter from Landers Bread in 1967 – Trade Directories and Census Returns – Charles Appleby interview – 
The advert for Lander's Bread, of Yorke Street, Mansfield Woodhouse, 'often buttered, never bettered', appeared in the Mansfield Woodhouse Urban District Council Official Handbook, of 1929. – Our Mansfield & Area Website (ourmansfieldarea.org.uk)