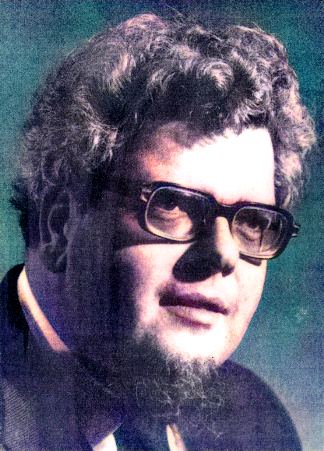 John Ogdon practices at home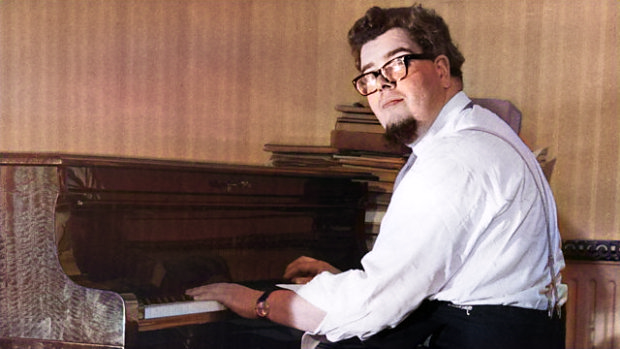 John Ogdon - A Musical Genius
John Andrew Howard Ogdon was born at Auckland House, Welbeck Road, Mansfield Woodhouse, on 27 January 1937 (the same birthday as Mozart).
His family included his mother Dorothy, his father Howard, who was a teacher of English at Queen Elizabeth's School, Mansfield, sisters Pippa and Ruth, and brother Karl.
From the age of about four, John started taking lessons with Mansfield piano teacher Miss Nellie Houseley. She recalled in a 1974 Chad interview, that he had two lessons a week and always stayed for an hour afterwards reading music.
Aged just five John caught meningitis and was treated at Nottingham General Hospital. He attended St Edmund's School, Mansfield Woodhouse, and many local people will remember him from their school days there in the early 1940s where he gave recitals to his friends.
John was eight years old when his musical talents came to the attention of the then Nottinghamshire County Council Director of Education Mr J Mason. He in turn arranged for John to have an interview with Sir Stanley Marchant, the then principal of the Royal Academy of Music in London.
Meanwhile the Ogdon family had moved away from Mansfield Woodhouse and relocated to the Whitefield area of Manchester, near where his father had accepted a teaching post at Prestwich Grammar School.  Here John was placed with famous pianist Iso Elinson. 
John Ogdon was offered a free scholarship at the Royal Manchester College of Music (now the Royal Northern College of Music). To demonstrate his genius, at the time of his scholarship he was the youngest student ever to be admitted. Sadly John to surrender the scholarship due to ill health. Fortunately, another opportunity came his way shortly afterwards and for about four years from 1953 to 1957, he was able to take up a scholarship there.
It was while he was at the college that John helped to form New Music Manchester, a group dedicated to the performances of modern works.
Still studying hard, John made his professional debut in 1956 with the Halle Orchestra under conductor Sir John Barbirolli, playing Brahms' D Minor Concerto.
An article in the Manchester Guardian in 1956 about a recital he had given there reported:
"A born musician, and pianist, his playing was alight with colour ranging through the minutest gradations from a beautifully controlled pianissimo to a stunning but still musical fortissimo. No less impressive than his technical and musical qualities were his complete absorption in the music…"
After leaving college he went on to study with the likes of classical pianist Egon Petri and Dame Myra Hess. Egon Petri said of him: 'I can teach this boy very little, he is a genius, and his remarkable technique was formed in his youth.'
The St Edmund's Music Society organised a John Ogdon recital at the Turner Memorial Hall, Mansfield Woodhouse in 1958.  That same year John made his sensational London debut at the 1958 Proms, playing the Busoni Concerto, regarded as one of the piano repertoire's most awkward pieces. John's recital debut in 1959 at Wigmore Hall also excited attention as he played much of Liszt's music.
Pianist Brenda Lucas became his wife in 1960 and they recorded a number of piano duets together. They had met when both studying at Manchester (she later wrote his biography called Virtuoso).
In 1961 he entered the London Liszt Competition and took first prize. In 1962 he won the International Tchaikovsky Competition in Moscow, jointly with Vladimir Ashkenazy, which consolidated his growing international reputation.
A man with an astonishing memory, he went on to compose more than 200 pieces, mainly for the piano and championed the music of Tchaikovsky and Rachmaninov and of British composers.
Dogged by ill-health from being a small boy, in 1973 it was reported that he had suffered a mental breakdown and spent some time in the Maudsley Hospital, London. Even then it was said that he continued to practise for three hours a day on the Hospital's Steinway.
John taught music at Bloomington University, Indiana, USA, between 1976 and 1980.
In the 1980s he staged a comeback and played at the opening of the Royal Concert Hall, Nottingham, in 1983.
John had made a partial recovery and although his health was still poor, he continued his career and showed that his technical skills and interpretive inspiration had hardly been affected. One such example of this was his premiere recording of what is regarded as the world's longest and most difficult piano sonata, Sorabji's Opus Clavicembalisticum, which lasts almost 5 hours.
But then, tragedy — for on 1 August 1989 he died at Charing Cross Hospital, London, having been admitted there the previous day suffering from broncho-pneumonia. He was 52. He left a wife, Brenda, daughter, Annabel and son, Richard Peregrine.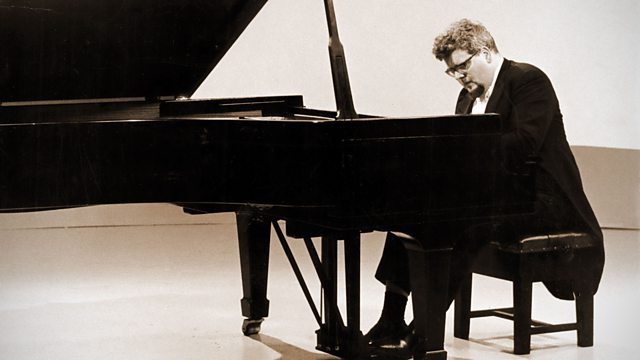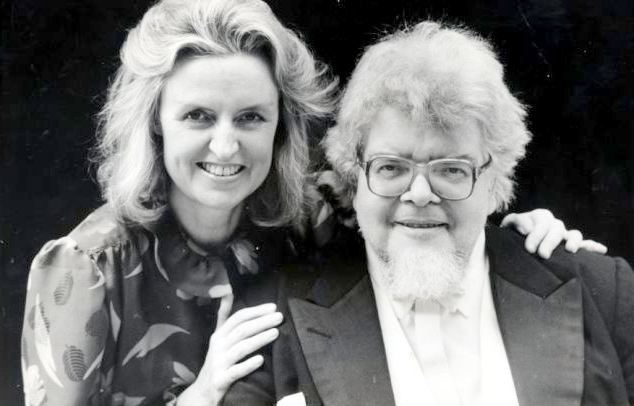 Bloomington University, Indiana USA 1970s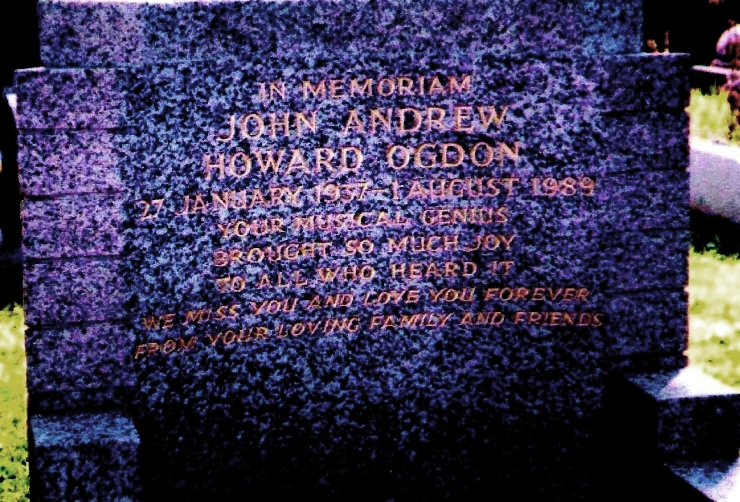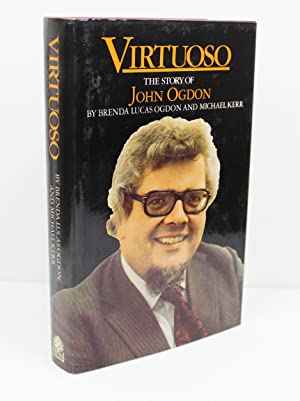 Virtuoso The Story of John Ogdon 
by Brenda Lucas Ogdon and Michael Kerr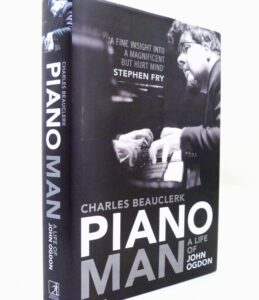 Charles Beauclerk's Piano Man depicted the life of
John Ogdon in full detail
John released many piano musical albums over the decades
A bronze bust was created by sculptress Joy Bently was displayed in the Mansfield Palace Theatre in 2002 to mark what would have been John Ogdon's 65th birthday.
John Ogdon's gravestone reads:
'In memoriam – John Andrew Howard Ogdon
27th January 1937 – 1st August 1989
Your musical genius brought so much joy to all who heard it
We miss you and love you forever
From your loving family and friends'
Tributes to him poured in and his friend Sheila Haslam, speaking on behalf of the Cantamus Choir said:
"His influence in the music world was so great. Mansfield was so proud of his reputation and the way in which he fought his illness.
He gave so much encouragement to young people in this area. We feel the loss deeply.
His appearances with Cantamus and his association with Mansfield Choral Society are times that we will treasure."
On 13th May 1990, his widow, Brenda Lucas, performed Christus, in the John Ogdon Memorial Concert, at Mansfield's Civic Theatre. He himself had given a performance of Christus, there in 1983 to a capacity audience.
In the 1990 memorial concert programme a description of him was as follows:
'John Ogdon, born in Mansfield Woodhouse, was an astonishing talent. Even as a little boy his gifts were quite awe inspiring, but these were to need careful harnessing if he was to develop along the correct paths. The task of controlling his precociousness in those early days fell to Miss Nellie Houseley, a brilliant and highly-respected Mansfield piano teacher. She had the steely determination, experience and skill to mould John, almost against his will, into a prodigy with technique, a deep understanding of keyboard musicianship and a unique clarity of tone, which never deserted him.'
Mansfield District Council established a scholarship in his memory.
His life-long friend, Huthwaite born Marjory Wood, wrote the book The Young John Ogdon, to commemorate the 10th anniversary of his death in 1999.
A man who did much to keep the memory of John Ogdon alive, was the late Jack Wakefield.
He helped to commission a permanent tribute to John, a bust, at a cost of about £2,500. Donations poured in and Reeth based sculptress Joy Bently cast the bust in bronze. It took pride of place in the foyer of the Palace Theatre, Mansfield, in early 2002 to mark what would have been the master musician's 65th birthday.
Campaigner Mr Wakefield said of John at the time: "His personality completely changed when he played. In his private life he was very gentle, but at the piano he was a titan. He seemed to be transformed by the music."
Music lovers attended a Valentine's Day concert in 2003 at Queen Elizabeth's School, Mansfield, to honour this musical giant and featured Concordia Choir under the direction of John's life-long friend David Chamberlain. Also performing was Daniela Hursthouse, the 1998 winner of the John Ogdon Scholarship Award.
Virtuoso British pianist Sam Haywood played the John Ogdon piano for the very first time after its installation at the Palace Theatre, Mansfield, in 2004. The Yamaha C7 Grand Piano cost £13,000 and was raised by donations from local people.
Mansfield Palace Theatre's Music Society had launched the fundraising project with co-ordinator local music teacher Hilary Ward.
SOURCES:
CHAD NEWSPAPER – 'THE YOUNG JOHN OGDON', BY MARGORY WOOD – PHOTO OF JOHN OGDON'S GRAVESTONE, COURTESY OF CONNIE NISINGER – PHOTO OF AUCKLAND HOUSE BY KEITH MORRIS – WIKIPEDIA – JOHN OGDON MEMORIAL CONCERT PROGRAMME 1990 – THE TIMES NEWSPAPER – MANSFIELD AND ASHFIELD OBSERVER- DAILY TELEGRAPH – DIRECTORIES – PIANO MAN, BY CHARLES BEAUCLERK – VIRTUOSO, BY BRENDA LUCAS OGDON AND MICHAEL KERR