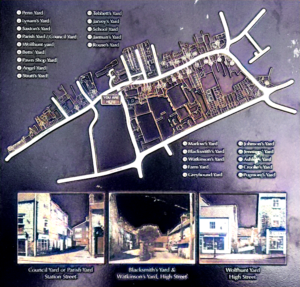 Coke Street to Sherwood Street – 1972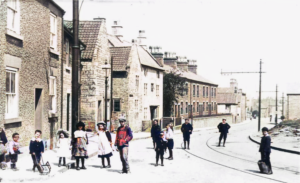 Penn Yard, Station Street. Circa 1910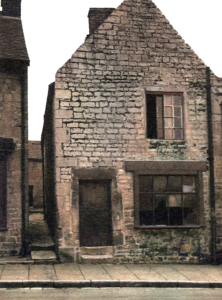 Penn Yard, Station Street. Circa 1930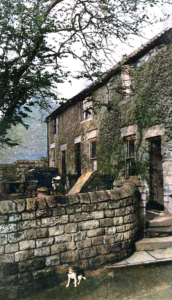 Spring Hill, Station Street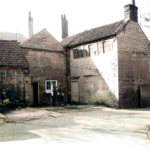 Frame-knitters Yard, Station Street 1982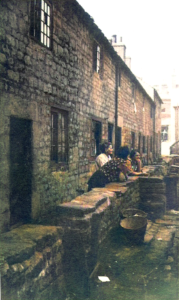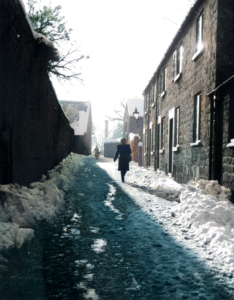 Castle Street, Victoria Buildings c1947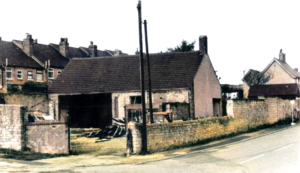 Blackwell's Builders Yard 1981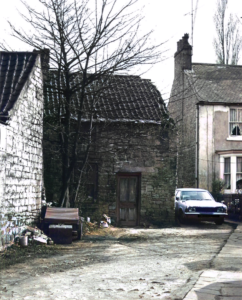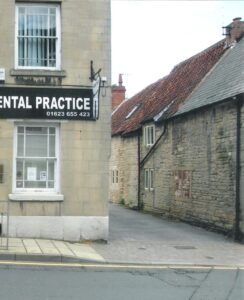 There are many little yards and alleyways in Mansfield Woodhouse. Many are named, some are not. The yard names are so called for a number of reasons. Maybe after a long standing family who had lived there for many years or after the occupant's job.
Coke Street
This photo taken in 1972 shows the alleyway between Coke Street (now called Newhaven Avenue) and Sherwood Street. St Catharine's Church is in the background.
Penn Yard
Off Station Street, and was accessed between the second and third houses on the left. Taken in about 1910, you can see the children milling around in the middle of the road. Transport of the day would be the tram (note the tram lines), bicycle or horse and cart.
The second photo from the 1930s shows the alleyway used to get to Penn Yard. I believe it was so called because there was a pinfold nearby where sheep would be penned.
Spring Hill
At the side of the former New Inn Public House on Station Street, Spring water from the paddy fields off Grove Street flowed down Spring Hill and into the Head Well near to where the present-day Post Office, once called Brook House, stands.
School Yard
Is behind the former frame-knitter's cottage on Station Street opposite Swan Lane. It was so called because at the rear was a small school accessed by some steps.
Council / Parish Yard
Between Madam's dress shop on the left and Mirch Massala Indian Take Away on the right is the entrance to what was called Council Yard or Parish Yard. Outbuildings to the rear were used, to house among other items, the Urban District Council's fire engine. Note the chamfered stone work on the left giving easier vehicular access. Vale Court Flats are there now.
Vale Court
This terraced row of cottages on Vale Court skirted one side of Pennyloaf Square and was situated near the bottom end of Vale Road. You can just see Munks' off licence peeping through in the distance. I don't know why it was called Pennyloaf square. Can you the reader come up with a solution for this one? Did a baker live nearby I wonder?
Castle Street
Is a small, mainly one-way lane running between Priory Road and Station Street. This photo was taken on a wintry day in 1947 and shows Victoria Buildings on the right. When the Need family lived at the Manor House, Castle Street was called Needs Lane. It was later renamed Castle Street perhaps because having castellated the roof, the Manor House then resembled a castle!
Blackwell's Yard
On the corner of Rose Lane and High Street was Blackwell's Builders' Yard. This photo was taken in 1981 just before it was demolished to make way for the new development of shops. Some 10 years before, there was a fire in the yard which unearthed a wheelwright's saw pit. That was where long thick pieces of timber were hand sawn by two men, one standing above and one standing below in the pit bottom. Yard names change over the years. Mr Stevenson, the builder, had the yard before Mr Blackwell so it could have been called Stevenson's Yard at that time.
Wolfhunt Yard
Off High Street is historically named after the wolf hunter who lived there. His job was to blow a horn to alert the villagers that wolves were roaming nearby and to move indoors to keep safe. The Wolfhunt House fronts the High Street entrance to the yard. This quaint little cottage, centre, is at the rear of the yard and since this photo was taken, it has been refurbished.
School Lane
This narrow thoroughfare which runs between High Street and Welbeck Road, gave access to cottages in School Yard and to the former National School, which was built in 1845. Taken in 1997, this High Street photo shows to the left of School Lane is Trinity Methodist Church and Ladbroke's bookmakers to the right.
Rouse's Yard
Off High Street, was named after another local builder who also had quarries on Vale Road. This photo was taken in 1995 before demolition razed these buildings to the ground.
Marlow's Yard
Also off High Street is located to the right of Kirkpatrick's dental practice. It was there that William Marlow, his mother Mary before him and his son William George after him, ran a grocery shop in the last half of the 19th Century. At least 15 households lived down this yard where the houses had long upper storey windows to allow as much light in as possible, for almost half of the men there worked from home on framework knitting machines.
Montague Terrace
The houses along Montague Terrace, pictured under the arch, have long been absorbed into each having a High Street address. It was referred to as Montague Terrace on the 1939 Census but as to why is yet unknown.
Blacksmith's & Winstanley's Yard
This is a fine example of two yards, side by side, separated only by a stone wall. The yard to the left led to the Blacksmith's forge and smithy and the yard to the right, led to Winstanley's Yard, acknowledging the family who lived in the farmhouse there for many a year. Within Winstanley's Yard stands a threshing barn and a dairy. People might also know this area as Watkinson's Yard because it led to Mr Watkinson's house, the local blacksmith. The Constable's Lock up at the entrance to Winstanley's Yard on the right, predates the purpose-built Police Station which was on Swan Lane. The local policeman used it to keep under lock and key anyone who had broken the law, before their transfer to court.
Johnson's Yard
Is next to the Greyhound Inn car park on High Street. Thomas Johnson and his family lived there and he worked as a baker in the latter half of the 19th century.
Ashley's Builder's Yard
Access is set to the right of S. Crosby's shop at the bottom of High Street, near Albert Square. Bethel Court stands in that location nowadays.
Crooks Yard
This photo shows children pumping water out from a flooded cellar in Crooks Yard of Portland Street. The origin of the yard name is unknown as yet. Perhaps there was a family of that name living there at some point.
There are yet more yards to research and photograph. Among them are:
Betts' Yard
Lynam's Yard
Taylor's Yard
Slater's Yard
Parmenter's Yard
Saxton's Yard
Blackgate Yard 
Pawnbroker's Yard
Jennings' Yard
Chapel Yard
Loudon's Drive
Greyhound Yard
Strutts' Yard
Jarman's Yard
Tebbett's Yard
Angel Yard
Rouse's / Tailor's Yard
and Jarvey's Yard.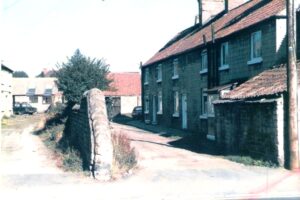 Blacksmith's Yard and Winstanley's Yard  -1987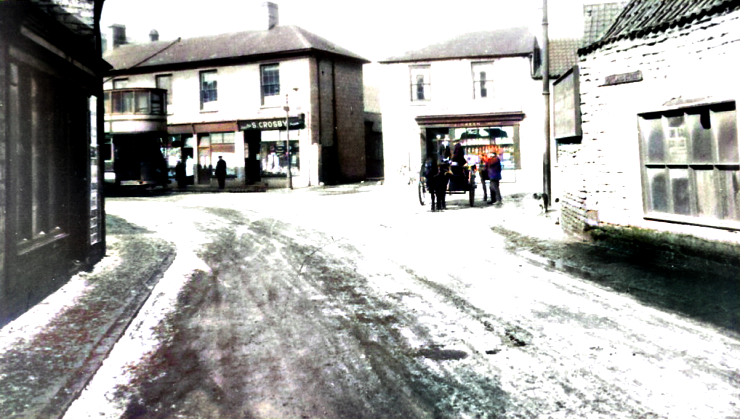 Ashley's Yard and Tram Car 5 Terminus -1928
Crooks' Yard, Mrs Hoult's shop at rear
CREDITS
Directories and Censuses – People's memories – Photos in The Old Mansfield Woodhouse Society's archive, and from Keith and Margaret Morris, Mr Robinson and Ann Walter.