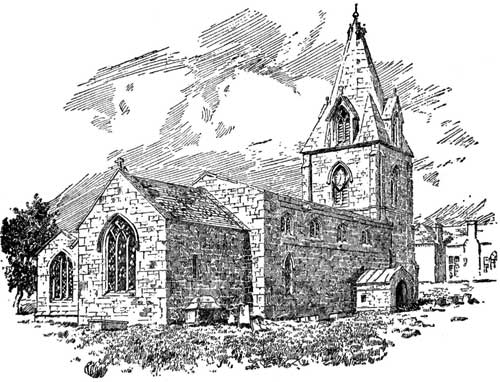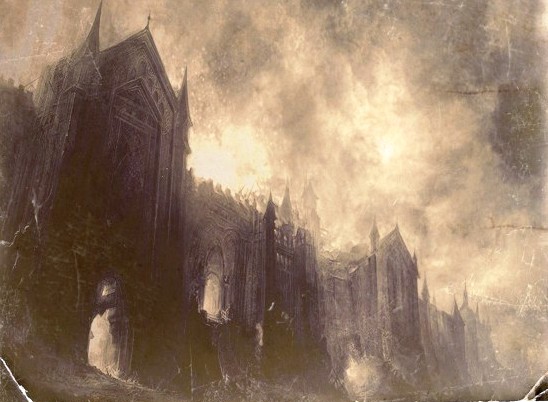 St Edmund's King and Martyr
Despite many years of research, the date and origins of St Edmund's Church remains unclear.  Most theories suggest there may have been an earlier church here from perhaps the 11th century and made of wood which burnt down sometime around 1180 and which was rebuilt about 1190. However, evidence to substantiate this is not clear.
Therefore, I concentrate this article from a starting date of 1250 because it is recorded that a Curate was here at that point. Perhaps we will never know when the church was first built.
In 1086, 20 years after King William I had been crowned, he ordered a national survey of all towns and villages, mainly for taxable purposes. Details of every manor, its annual value, area and ownership were recorded in this great ledger called the Domesday Book.
Mansfield Woodhouse is not specifically mentioned in this, so if it existed at all by then, it was more than likely a part of the Manor of Mansfield.
The Dean of Lincoln became the Rector of Mansfield in 1240 and he and his successors appointed the Vicars at Mansfield and the Curates to the Chapelries. There must have been a settlement and a church here then for records show that in 1250 Walter, Clerk of La Wudehus, was the Curate here, as was Roger, the Chaplain, in 1299.
Then a tragedy occurred in 1304 that shocked and affected everyone who was living and worshipping at Mansfield Woodhouse.
A fire so fierce, it destroyed the village and much of the church.
A Manorial Parchment records that:
'Be it remembered that the town of Mansfield Woodhouse was burned the Saturday next afore the feast of the Exaltation of the Holy Cross, the year of our Lord MCCCIIII and the kirk steeple with the bells of the same, for the steeple was afore of timber work and part of the kirk was burned.'
Cross Hill
The Scheduled Ancient Monument of the cross base and steps on Cross Hill, Church Street, is medieval in date. Crosses were usually erected for use in religious festivals in the Middle Ages. Is it possible that the cross was also a memorial to the fire? It is likely that the shaft of the cross was mutilated at the Reformation.
After The Fire
After that catastrophic fire, the reconstruction of the church would have absorbed the skills of craftsmen, from the stonemasons who used the locally quarried magnesium limestone to build the walls, to the carpenter who used timber from nearby Sherwood Forest to beam the roof and rafters inside. Sculptors, painters, wood carvers and many others would also have played their parts in restoring the church building. In 1305 a grant of timber from Sherwood Forest given by King Edward I and also the local limestone, provided the materials to rebuild the village and the church. The next few years saw the rebuilding programme at St Edmund's Church provide chancel, nave and tower. The major part of the restoration would have been done by 1310.
The Chantry
The Stuffyns, a local, well-respected and wealthy family were the first to establish a chantry in the church in about 1339, where an appointed chaplain would be paid to pray for their souls. Such men held that post through the next two centuries until the time of the Reformation.
One chaplain of Mammefeld Wodehouse was Richard de Curtelyngton in 1348 and in 1480 the right of recommendation to the chaplaincy lay with William Plumpton.
Piscina
A piscina pillar, a free standing stone basin which was for washing holy vessels used during Mass or Communion services was discovered in the garden of the Manor House next door to the church in 1930 while the Taylor family lived there. It was subsequently returned to stand inside the church and was then used to hold a paschal candle at Easter. Could the piscina have been removed and unceremoniously dumped over the wall into the garden next door in the 1530s at the time of the Reformation when the Church of England was established?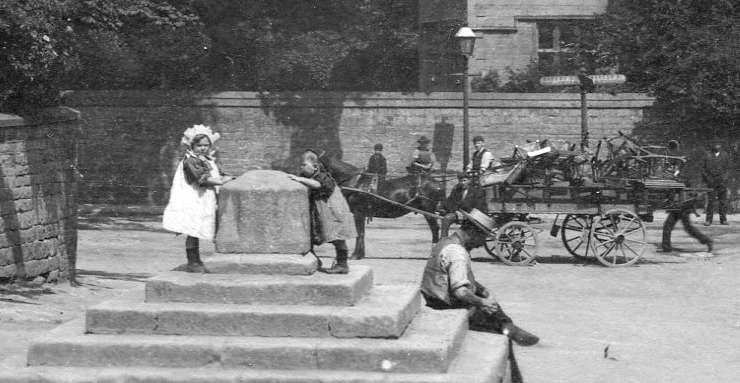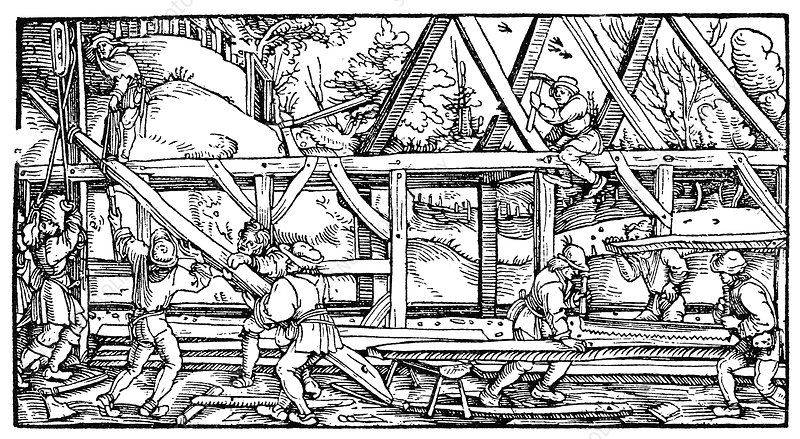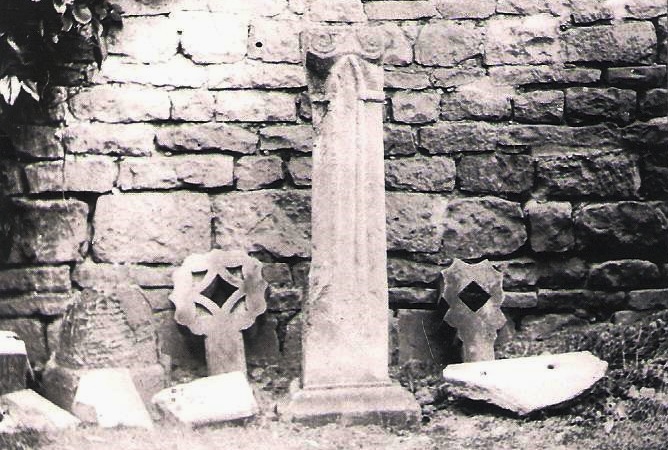 Font
There has been some deliberation about the dating of the font as to whether it is of Saxon or Norman origin. The font is circular with an octagonal plinth. When the font cover was damaged Mr Welch and Michael Mitchell repaired the wing of the dove. Whatever its date or origin, it shines in its graceful simplicity.
An extract from an early 17th Century record showed that 'The impropriate rectory of Mansfield Woodhouse was worth £110 per annum and Mr Dand £15 to his own use. The incumbent and preaching minister Edward Manisty received £20 from that impropriation for his salary. Also that there being no vicarage endowed, the parishioners procured a Curate at their own charge with some voluntary allowance from Sir Thomas Blackwell, Knight. 
Stained Glass
There are three stained glass windows in the south aisle. One dated 1617 features a piece of heraldic glass and Mr Dand's coat of arms are impaling those of his wife Margeria.
Digby Monument
The High Sheriff of Nottinghamshire Sir John Digby, an ardent royalist who fought for King Charles 1, raised a force of 80 horse during the English Civil War. He lived at the Manor House, adjacent to the church and was knighted by the King for securing Newark at that time. He and his wife, Lucy, who both died in 1684, are commemorated in the Lady Chapel of St Edmund's Church (the Lady Chapel is sometimes called the Digby Chapel and has previously been referred to as the Chantry Chapel). There you will see life-size statues of them. He is dressed in full military armour with a sash about his shoulder and a helmet at his feet. She is wearing a long flowing gown with puffed sleeves, her headdress tied beneath her chin and she is holding what is reputed to be a pat of butter, to grease the hands of St Peter at the gates of heaven.
The plaque beneath the Digby Memorial, almost unreadable, the latin inscription translates as:
'Sacred to the Almighty and the most great God, and to the memory of John Digby, knight and Lucy his wife'.
This inscription reads:
Of famed birth and of greater …… allow none equal in dignity in any way, nevertheless by virtue more famed than any other knight; at the same time a man born into the example of goodness, notable by virtue as much in private life as in public in the instruction of sinners as much in prudence as in principal for his native country; of singular faith, advanced to the ordering of the most powerful and honourable office in the counties of York, Notts and Lincs and by his office thus discharged ….. by his memory….. of wishes, and at length sitting in the place granted by fate to his descendants …. from the most ancient and splendid family of Trygotts in the county of York came his wife, faithful in public life and in things domestic, mother of the family and most careful in the pious education of children able in all things.
He died in the 82nd year of his life and was survived five months by his wife in the 92nd year of her life.'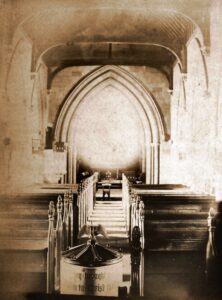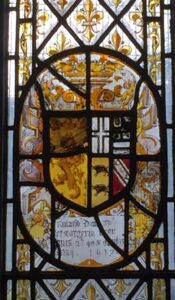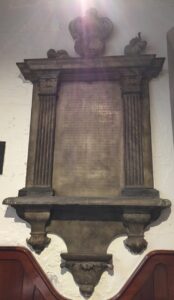 On the south wall an English inscription about the Digby family reads:
'THAT IT MAY BE KNOWN WHERE THE REMAINS OF THE WORTHY PERSONS DECEASED ARE DEPOSITED JOHN DIGBY ESQUIRE
Son and heir of Sir John Digby of Mansfield Woodhouse, Knight. Married Frances; soul daughter of Leonard Pinkney, of Westminster, Esquire; by whom he issue, Kenelm, John, George, Lucy, Elizabeth and Frances; who all except John, died young. The first named John died in the 58th year of his age, leaving Frances his widow who afterwards married Charles Osborne Esquire, soul brother to Thomas Duke of Leeds and died in the 80th year of her age, 1725. John the surviving son and heir of John Digby, July 2, 1696, married Anne, eldest daughter and co-heiress of Sir Edward Ayscough of South Kelsey in the county of Lincoln, Knight, who died the 14th of October following (as appears by the adjoining monument) he afterwards married Jane, the youngest daughter to Sir Thomas Wharton, of Edlington, Knight in the county of York, Knight of the Bath. At the coronation of King Charles 1 which Sir Thomas was grandson of Philip by Sir Thomas Wharton his sons and heir, the soul brother to another Philip, both Lords Wharton. By her he had issue Frances, Fyotier, The Grange, near Grantham in the county of Lincoln, Esquire; Lucy, Anne, Elizabeth, who all died young; John who died August 11 1728, in the 23rd year of his age, Philadelphia, married to Sir George Cayley of Brompton in the county of York, BAR, Rosamond and Thomas, who died young; Mary, married to George Cartwright, of Ossington, in the county of Nottingham, Esquire; Priscilla, Henrietta and Lucy.
John Digby, the Father, died August 16th 1722 to whose memory, and of his ancestors here named and of his eldest son, His widow Jane Digby, and his daughter Legard, in testimony of their duty and affection have erected this monument.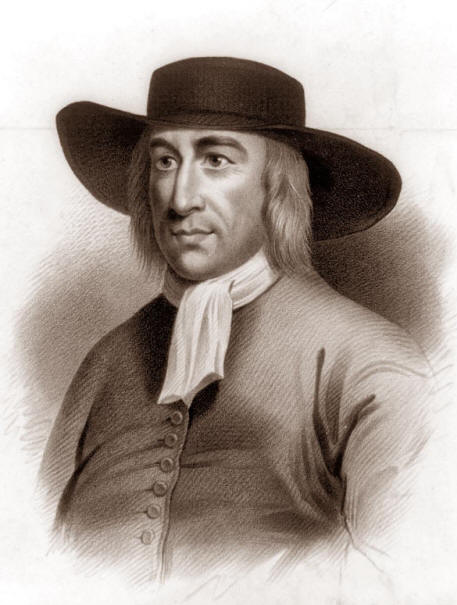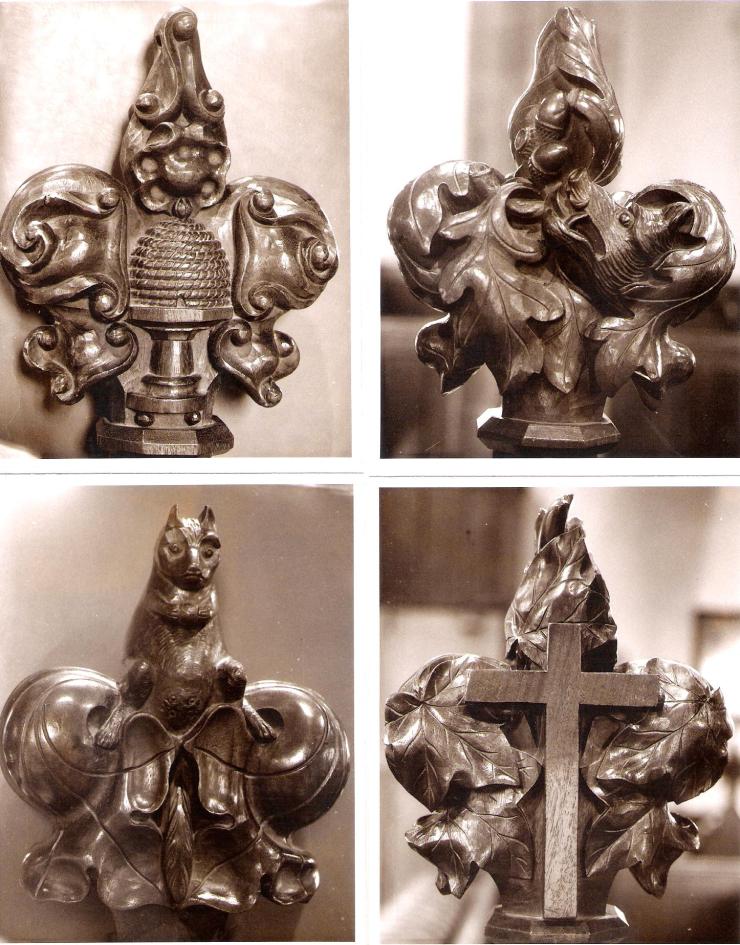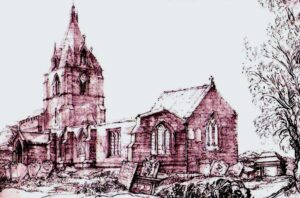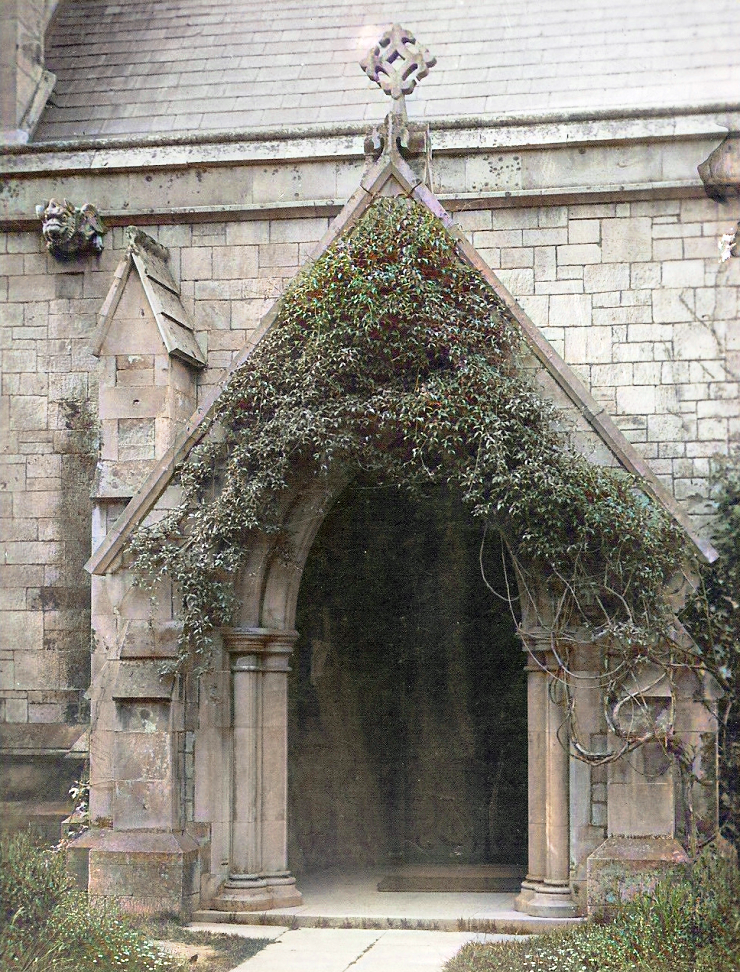 George Fox
The founder of the Quaker Movement, George Fox was born in Leicestershire in 1624. A shoemaker by trade he later came to live at Mansfield. One day he travelled to Mansfield Woodhouse and was so moved to visit the church of St Edmund's. He wanted to declare the Truth and preach the Word of Life to the people there. But they struck him down, beat him, and put him in the stocks. Some hours later they took him before the magistrate at a nearby Knight's house and eventually he was allowed to leave but not before he was stoned out of the town.
Church Restoration 1804/1810
Between 1804 and 1810 the church nave and aisles were virtually rebuilt.
Earthquake
The church tower was damaged and badly cracked as a result of a severe earthquake in 1816. Much later Mr Stevenson repaired the tower using iron bands and clamps. The image on the left shows evidence of clamps still used to secure the tower after an earthquake in 18169 when Raffles Davis drew this picture in 1877
Pew Ends
The beautiful hand carved pew ends known as poppyheads were crafted most probably in the period between 1847 to 1853 when William Bonython Moffatt's restoration of the church was in full swing. They feature animals, birds, flowers and faces. However it is also on record that a Mr Eastwood carved the pew ends about 1800.
Restoration
The drawing opposite sows the church restoration in the 1840S and 1850S when he Clerestory roof was removed. Also note the lozenge shaped clock face on the east elevation of the tower.  This would have been the one that was replaced in 1930.
This mid-19th century restoration included not only the re-seating but also the removing of the 15th century clerestory which involved alterations to the roof, walls and fabric of the church, adding a new north aisle and a new tower gallery.
In 1860 the Bishop of Lincoln became the church's patron. The patronage passed to the Bishop of Southwell when the diocese was created in 1884.
The architect T C Hine, of Nottingham, further restored the church around 1878 when the chancel was taken down and lengthened, the old vestry converted into an area to house the organ, and a new vestry erected to the north side of the chancel.
An extract from the Parish Magazine September 1878 reads:
Reconsecration of the Chancel
'On the 7th August 1878 such an event took place, in this parish as has not occurred in the memory of the oldest inhabitant and is not in all human probability likely to occur again for a long time. By the ecclesiastical law of our country when a church or chancel has been so enlarged that the communion table has to be moved out of its place further to the east to a part which had not been before included in the building, it is necessary to consecrate the church again. That is by a solemn act and service to dedicate it anew for the worship of Almighty God. The Bishop Suffragan of Nottingham was met at the church gate by clergy and conducted in procession into church where he took his place at the Communion Table. The Vicar then presented the petition for consecration which was read by the Rural Dean, after which the Bishop followed by the clergy, walked down the church saying part of the service appointed for the consecration, having returned to the Communion Table he proceeded with the rest of the service. He then signed the Deed of Consecration. Afterwards about 70 people sat down for a public luncheon. A toast was proposed by J Paget Esquire, of Stuffynwood and the Rev Capel Sewell. The Rev Arthur Brook, brother of the late Rev Alfred Brook, late Vicar of Mansfield Woodhouse, gave a sermon at the evening service. The Late Rev Alfred Brook had so earnestly desired the chancel to be restored in his lifetime.'
Francis Hall Esquire gave the stone to build a south porch at the church. Money was raised to pay the builders Messrs George and Henry Stevenson and on 29 April, 1884 it was inaugurated.
A meeting at the National School in the autumn of 1891 concerned the repair and repointing of the church tower, the provision of a new floor for the belfry, the repair of the bells which needed new clappers and an appeal to parishioners to raise funds for 2 more new bells to make a more perfect peal of six.
Work must have started almost immediately to do all of that for in May 1892 the new bells were dedicated at a special service, the tower having been repaired and repointed with Portland cement from top to bottom, a new belfry floor installed, the faces of the clock repainted, the figures on the dial and the weather cock re-gilded and a new lightning conductor installed. The tower was decorated with flags especially for that service.
Restoration continued in the 20th century. About 1930 the Sanctuary was reconstructed and its floor relaid with Hopwood stone.
In his annual report in 1951 the Vicar, the Rev Arthur Geoffrey Barker, suggested that an appeal be made for funds to start repairs to the wood in the church, which was slightly affected by beetle. The appeal for £2,000 to repair the fabric of the church was launched. Steeplejacks started erecting scaffolding on the church spire. A giant-sized thermometer to gauge the fundraising target of £2,000 was made by Frank Blackwell and painted by Frank S Allen.
Money from a Restoration Fund in 1974 included paying for repairs to the guttering, the bell tower, the church roof inside and outside, and the church windows and steeple, and for new bookshelves a notice board, boiler, belfry door and outside light fittings, for exterior pointing and to rebrush the tenor bell.
Mining Subsidence
St Edmund's Church closed on 26 October, 1986 while extensive renovation work was carried out. Services were held in Turner Hall and at St Chad's Church. The architect Mr Gordon Smith proposed that the chancel step be extended so that parish communion could be celebrated there. The present High Altar would remain as so. Other proposals were — putting in a new heating system, a new toilet, resiting the choir and building a choir vestry in the tower. Renovations at the church included an extension to the chancel step and a carpeted dais for the nave altar and communion rails, in memory of Frank Allen; a wood and glass screen at the tower arch to create a choir vestry with new robe cupboards, refurbishing the present vestry for clergy, servers, altar guild,signing of wedding registers, and replacing the oil fired boiler with a new gas system, some new radiators and moving some old ones, curtains inside the screens of the Lady Chapel; making provision for the choir stalls in the north aisle (St Martin's Chapel); removing the bells from the tower, building a new frame and re-hanging them. Arrangements were made for the church to be redecorated, a new organ purchased and fitted, work on the spire started, clock repair, and new carpets fitted.
Later changes were made to the rear of the church to welcome children including carpeting the floor, making storage space, providing a table and chairs to work at and toys and books.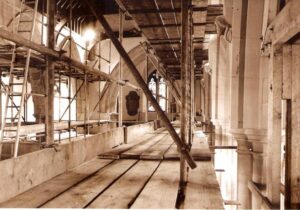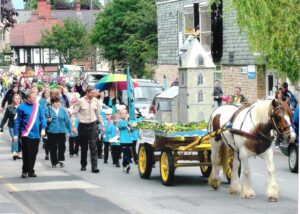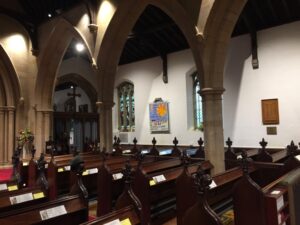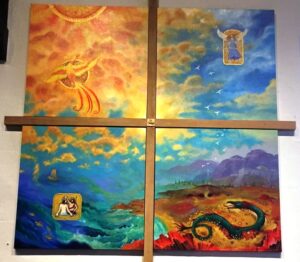 700th Anniversary
In 2004 the church celebrated its 700th anniversary to commemorate the fire of 1304 and the rebuilding of the church. To mark the anniversary a celebration was held with several fun-filled events.  A handmade scale replica of St. Edmund's Church was built from wood and paraded around the streets on a horse drawn cart accompanied by the local scouts, guides, cubs and beaver movement.
A pewter brooch depicting St Edmund and a bookmark were produced to sell during the celebrations. The Saxon King Edmund was put to death by the Vikings at the Battle of Thetford in AD869 after having surrendered himself in the hope of saving his people.
Other Work and Restoration
Architect Mr Chris Moxon started plans for development of the rear of the church in 2005.
Better lighting for the paths leading to the church from the south and north sides were installed in 2006.
A decision was made to refurbish the rear of the church and to include the installation of a kitchen and toilets, provide a first floor ringing chamber, a glazed and solid screen between tower and nave, to reposition the font, and remove 10 double pews from the west end of the nave. Four poppy heads from the removed pews were to be retained.
Artist Robert Bealby, of Nuttall, was commissioned to paint the picture that hangs on the south west wall of the church to mark the completion of all that work at the rear of the church throughout 2009 and 2010. The cross which frames the inner edge of the panels is made from planed oak by carpenter Daniel Scrivener.
Glass inner doors to the north side of the church, a power ring to provide power to electrically operate the disabled access to the south side and an IT system were installed.
More work included new lighting, restoration of the floor and replacement of the roof on the Lady Chapel.
The church bells were restored again by bell founders Taylors of Loughborough, in April 2015, almost 30 years since they were last done
Bells
Bell 1 (the treble bell) is of 16th century date, rings with the note of C, weighs 3cwts 1qtr 14 lbs, and was founded by H Dand. It bears the initials of Henry Dand on the waist and the Nottingham Coat of Arms and a border of grotesque figures.
Bell 2 is dated 1698, rings with the note of B Flat, weighs 4cwts 0 qtrs 15 lbs and was founded by G Oldfield. This bell is inscribed: 'God Save His Church. P Wilson and I Hooke, churchwardens 1698'.
Bell 3 is dated 1988, rings with the note of A Flat, weighs 7cwts 2 qtrs 24 lbs and was founded by J Taylor. This bell is inscribed 'In Thanksgiving for the church restoration 1986-88' and includes the names of the churchwardens and Vicar. The old bell 3 by George Heathcote of mid-16th century date, has a preservation order on it and is now hung above the peal and rung from inside the church. It bears the inscription 'I.H.C. St Mary pray for us, OPN'. (OPN is an abbreviation of Ora Pro Nobis, meaning Pray For Us)
Bell 4 is dated 1742, rings with the note of G, weighs 9cwts 1 qtr 12 lbs and was founded by T Hedderley. This bell bears the words 'Tactum sileo, percute dulce cano' (untouched I am silent, strike me and I sing sweetly). On the waist is scratched 'Thomas Hedderley, founder, Woodhouse Willey, churchwarden'. It was recast in 1988 by J Taylor.
Bell 5 is dated 1892, rings with the note of F, weighs 12 cwts 2 qtrs 4 lbs and was founded by J Taylor. This bell bears the words: 'Ring in the Love of Truth and Light. Charles Webb, Vicar. W Warner, Joseph Harrison, churchwardens'. It was paid for by the parishioners.
Bell 6 (the tenor bell) is dated 1892, rings with the note of E Flat, weighs 17 cwts 2 qtrs 4 lbs and was founded by J Taylor. This bell was funded by William Welfitt Hall for his aunt and uncle and is inscribed: 'In Memory of Francis Hall, died 1888 and Mary Ann Hall, his wife, died 1871.'
NB weight measures
lb = 1 pound (or 16 ounces or 453gms); st = 1 stone (14 pounds or 6.3kgs); qtr = 1 quarter (28 pounds or 2 stones or 12.7kgs); cwt = 1 hundredweight (112 pounds or 8 stones or 50.8kgs)
The Sanctus Bell which by comparison is very small, was rung during the prayer of consecration in the Holy Communion service, so that the sick, not in church, might know when to join in with their act of worship. It formerly hung in a turret over the chancel arch.
The bells were rehung in 1949 in memory of Alfred Munks.
Before the Vicar, the Rev L Shorland Ball left St Edmund's Church and moved to his new parish at East Retford, he received a peal of Bob Minor, rung in three hours, three minutes, the first time it was rung in living memory.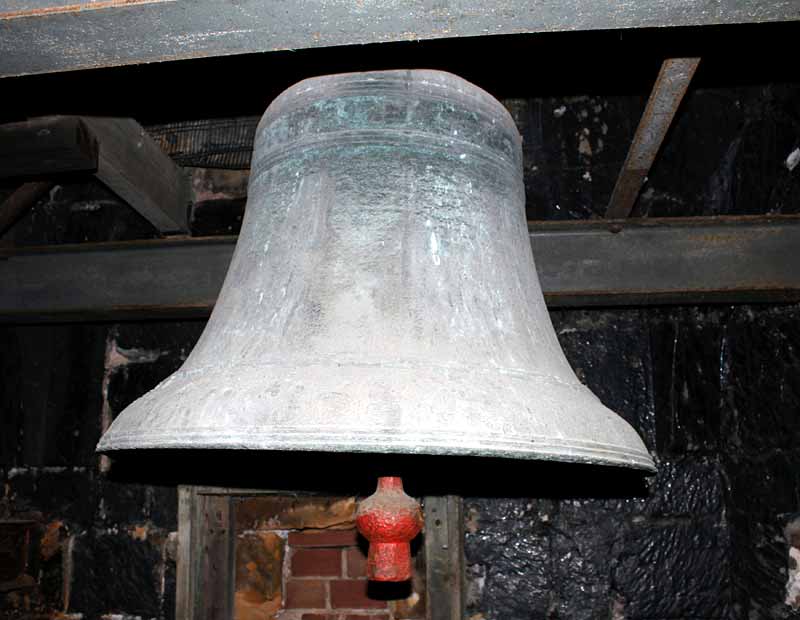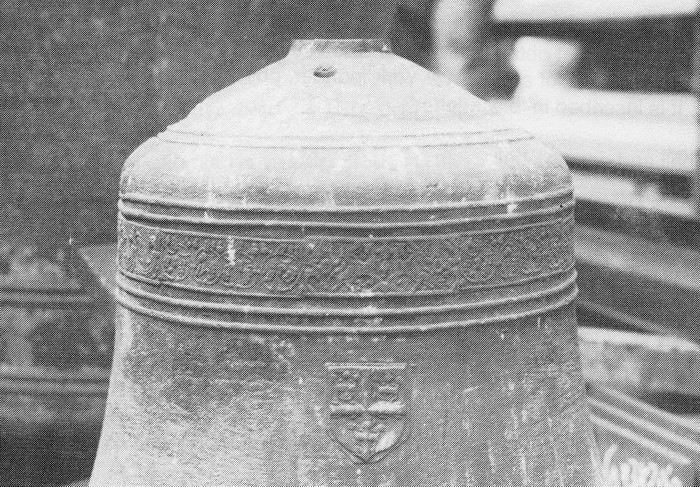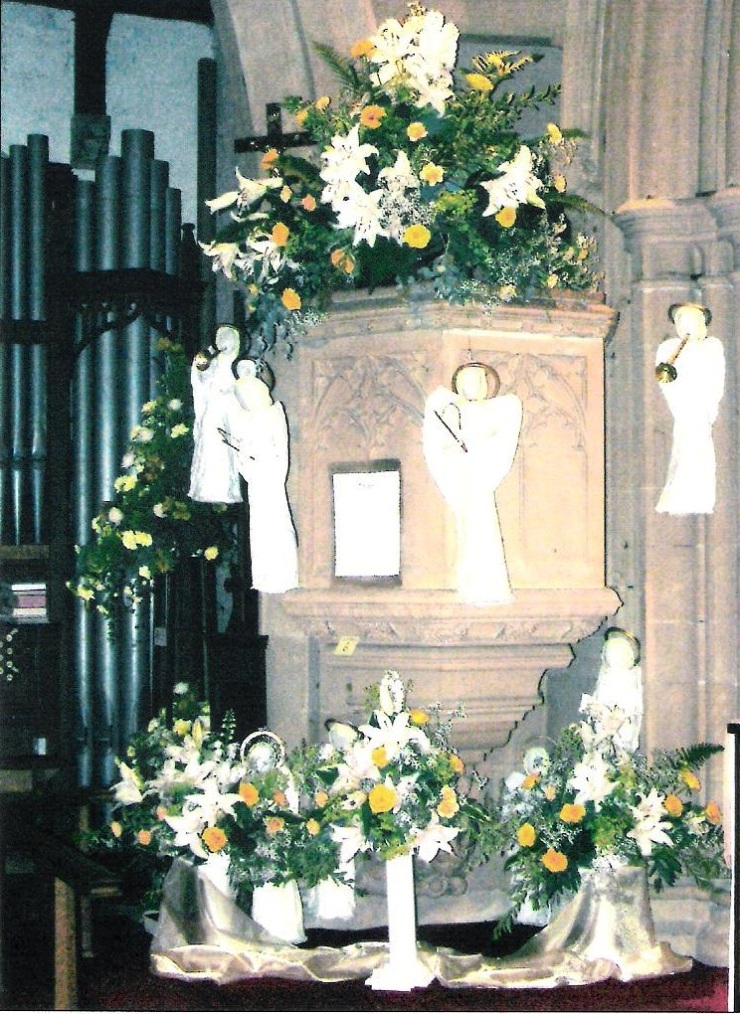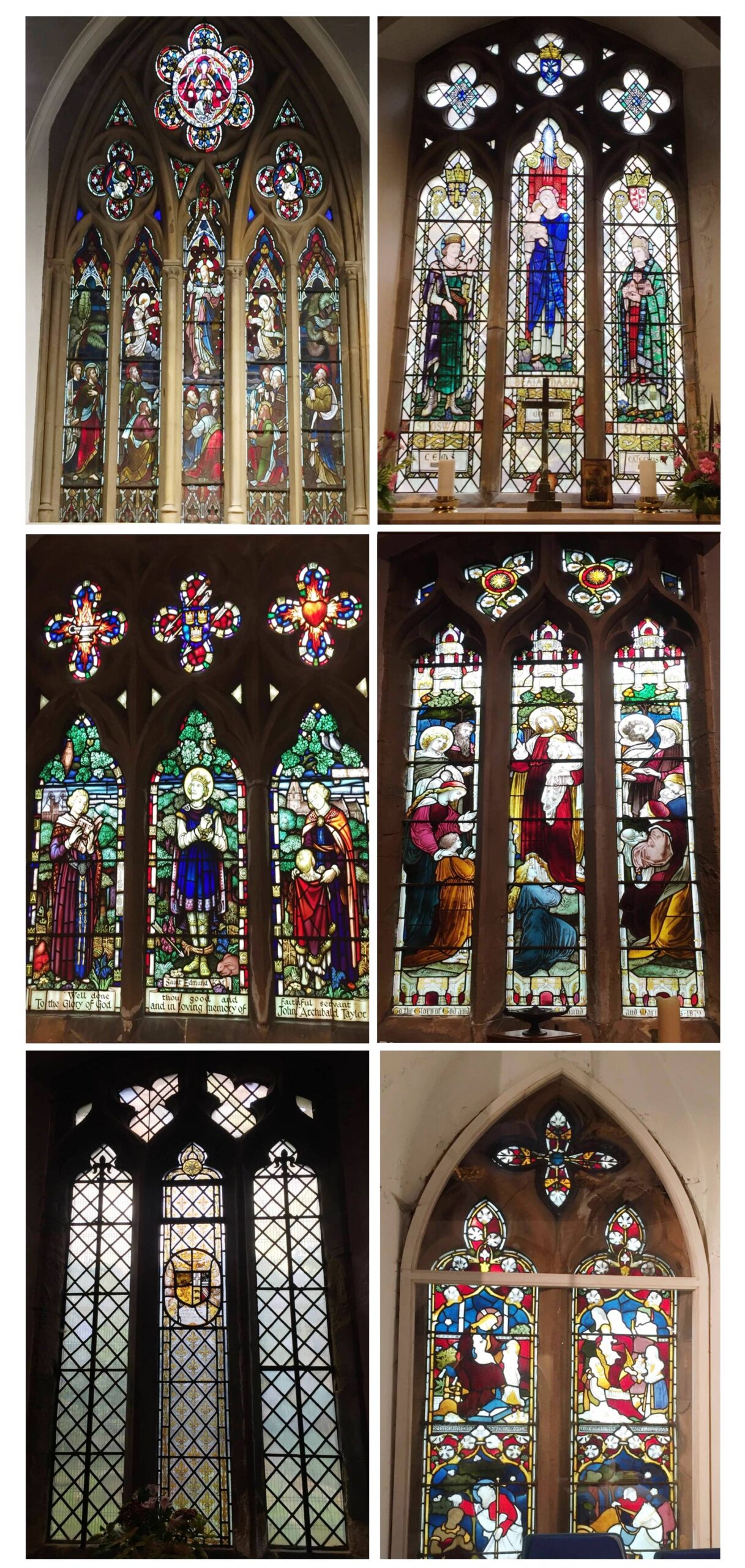 Pulpit
The pulpit is one of the highest in the diocese, perhaps installed so high for the preacher to see the people in the tower gallery. Beneath is a stone carving depicting Eve eating the apple, with a serpent entwined around her. It is ornate and suggestive of being Victorian in origin. Sir Steven Glynne on his visit to the church in October 1868 observed that it was a new one.
Stained Glass Windows
There are six windows in the church that feature stained glass.
Window 1 is the East Window in the Chancel. It has five lights or panels and depicts the Ascension of Our Lord. It dates from 1878 when the Burne-Jones period began the idea of including as many figures as possible.
Window 2 is the East Window in the Lady Chapel. It has three lights or panels and was presented in 1938 by the Mothers' Union and the Church of England Men's Society (the CEMS). It commemorates the groups which used to meet in the church — the Men's Society the Mothers' Union and the Catechism class. It was designed by Messrs Cook, Howard & Lane, architects and surveyors, of Mansfield.
Window 3 is the South Window in the Lady Chapel. It has three lights or panels, is dated 1932 and is in memory of John Archibald Taylor, managing director of Sherwood Colliery. It depicts Sherwood Forest with rich greenery, squirrels, rabbits and crows, a Pit Top scene and a church. It was designed by Messrs Cook, Howard & Lane, architects and surveyors, of Mansfield and constructed by Hinchcliffe, Hincks & Burnell Ltd of Nottingham. It is also said to depict the story of how St Edmund was martyred.
The inscription on a brass plaque reads 'To the memory of John Archibald Taylor, warden of this church for 15 years who died at Gibraltar March 20th 1932 aged 66 years. This window was erected by members of his family together with the directors, officials and workmen of the Sherwood Colliery.'
Inscribed on the stained glass panels are the words 'Well done, thou good and faithful servant to the glory of God and in living memory of John Archibald Taylor.'
Window 4 on the south wall has three lights or panels. It depicts Jesus with some women and children. The inscription along the bottom of the glass panels reads: 'To the Glory of God and in memory of Edmund and Mary Sykes. 1879.' It is a token of their loyalty to the church. Edmund died in 1870 and Mary died in 1879. It is not known who was responsible for it but it could be that their family paid for the window – for it was recorded in the Parish church magazine for December 1866 that Mr E Sykes Junior had provided a lamp for the church porch, much needed at the south entrance of the churchyard.
Window 5 is also on the South Side of the church and has three lights or panels. In its centre and dating from 1617 is a piece of heraldic glass dedicated to Rowland Dand and his wife Margeria. It features their coats of arms. His wife died that year and he six years later in 1623.
Window 6 is the Tower Window and has two lights or panels. It depicts Jesus telling his disciples to: 'Suffer the little children to come unto me.' and the baptism of the Ethiopian by Philip, which reads: 'Finally went down into the water both Philip and the Eunuch and he baptised him.' The window dated 1870 is in memory of the Rev Alfred Brook, the first Vicar of Mansfield Woodhouse who was born on April 20th 1828 and who died on October 21st 1870. It was the gift of the Misses Paget and the work was by the firm of Clayton and Bell. This window was restored in 1919 to commemorate the end of the First World War.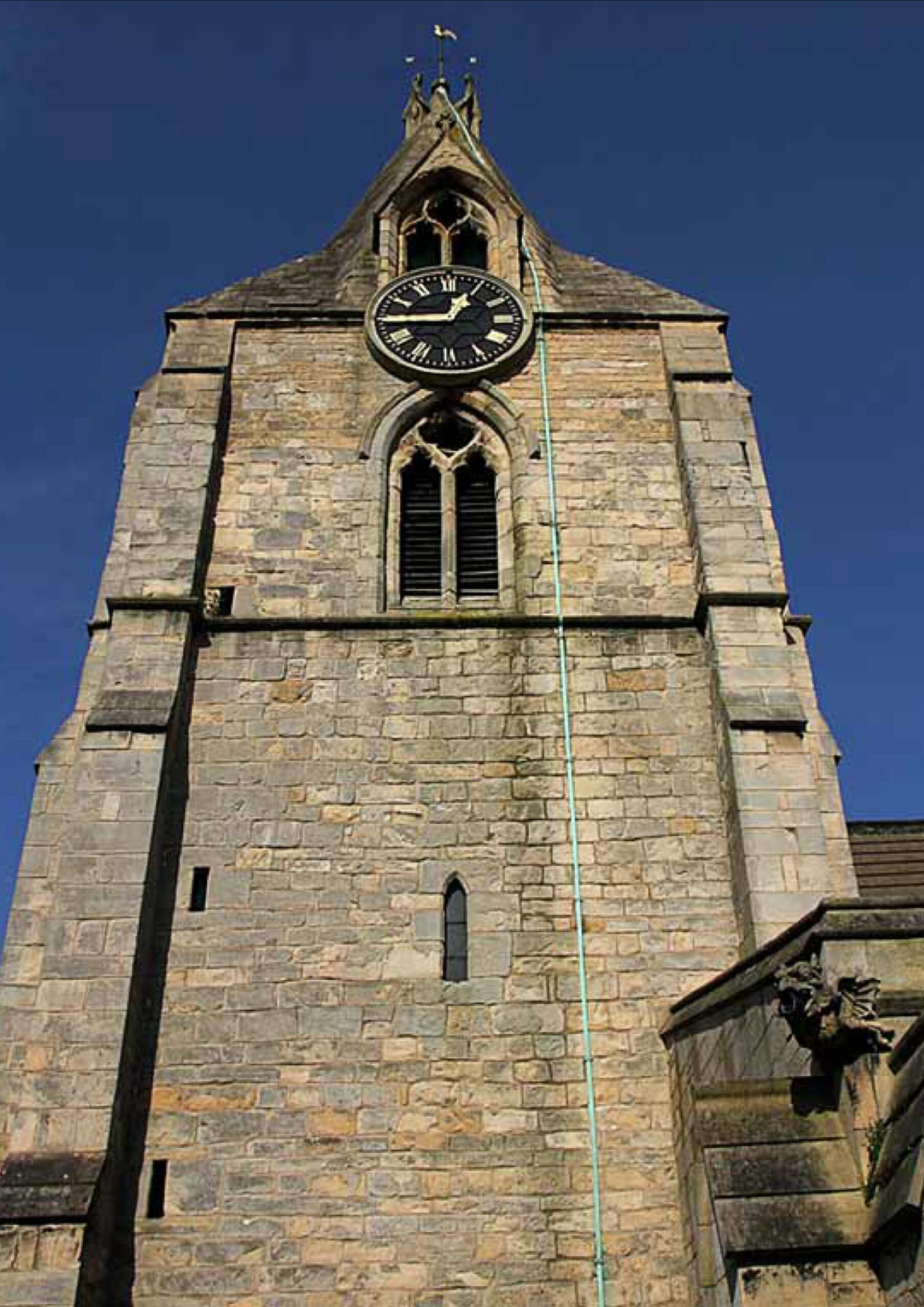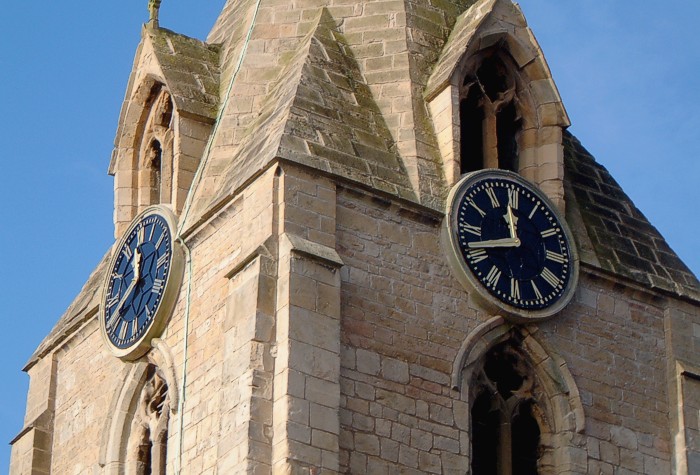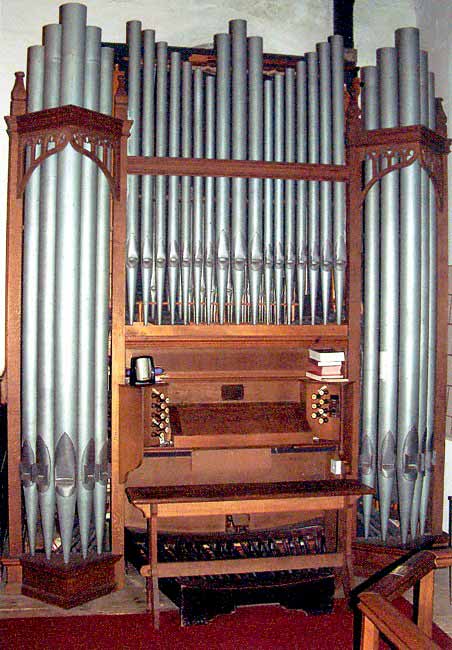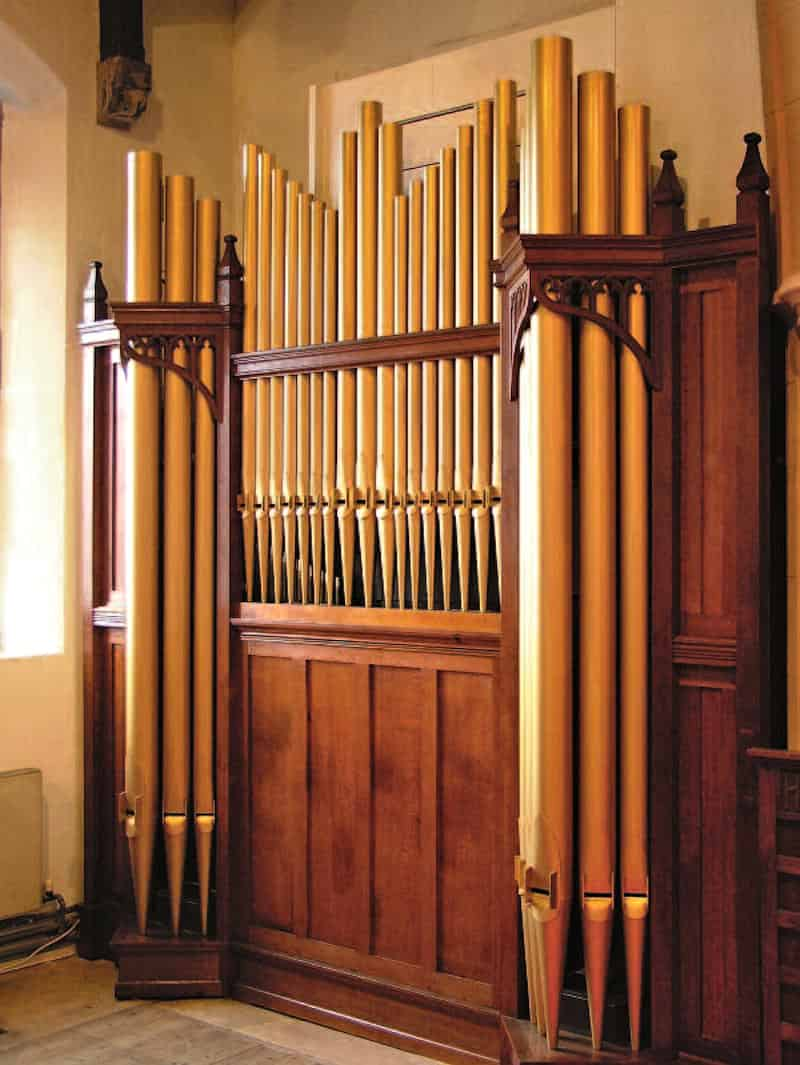 Clock
A new clock on St Edmund's Church tower was dedicated on Advent Sunday, 5 December, 1930.
Below is an extract from an article in the Mansfield Reporter in December 1930:
'Sunday was an auspicious day in Mansfield Woodhouse for it marked the occasion of the dedication of a new church clock, which is second to none in the county. Our readers will be interested to note that the old clock which was a boon to the parish in years gone by and which has served its purpose faithfully was installed over 70 years ago. An inscription on the inside of this reads 'This clock was made in the 21st year of Her Majesty Queen Victoria for the parish church of Mansfield Woodhouse, by George William Cope, of Nottingham, July 1859, and paid for from the rents of the Claypit lands by John Beardall, John Oaks, John Booth, Thomas Brooks, William Cripwell, Trustees of the Claypit Lands, William Cripwell, Thomas Tebbett, churchwardens.
The dials each measured across 5ft 11ins and the fingers 2ft 6ins and 3ft 8ins in length respectively. When taken down it was found that the nails holding the dials were worn to within an inch and only the spindle was holding them in place. One of the old dials is being kept as a novelty and is being placed in Mr Munks' grounds in Church Hill. Around and inside the dial will grow a variety of thyme.
The erection of the new clock had been watched with interest. It was a generous gift by the directors of the Sherwood Colliery Company. The dedication took place after the Sunday morning service in the presence of a large congregation, which included the Chairman and members of the Urban District Council.
The Vicar, the Rev J Lowndes, said "He could not imagine a more appropriate day than Advent Sunday for the dedication of a new church clock". He was sure they all felt a deep debt of gratitude to the Sherwood Colliery Company for their generous gift. It would be of great benefit to the church and parish. It was fitting that Mr Ellis, as representing the Company should be asked to start the clock, which he explained would chime the quarters and strike the hours except between 11pm and 5.15am. The hours would strike but the chimes would be silent throughout the night.
Mr Ellis also explained that he had been up the tower to view the clock and it was a wonderful piece of mechanism and a very creditable piece of work. The makers were to be congratulated, as also was Mr Warden, who had been responsible for the erection of the clock. Mr Ellis said "On behalf of the directors of the Sherwood Colliery Company I present this clock to the Glory of God and for the benefit of the people of Mansfield Woodhouse". He then set the clock striking 12.
The new clock replacing the one installed there in 1859 was made by the well-known firm of J Smith and Sons, Derby, makers of many of the largest clocks in the country including St Paul's Cathedral. The Westminster chimes are struck on the first, second, third and sixth of the church bells, the hour also being struck on the tenor, or the largest bell of the six. The time is shown on the south and east walls of the tower on dials 6ft wide. It was intended to use the dials of the old clock but the mechanics found they were beyond repair. The movement of the clock is fixed on a platform above the bells and behind the dials. This was fitted with the double three-legged gravity escarpment invented by the late Lord Grimethorpe for the Westminster clock. All the wheels, which are of gunmetal, are screwed down to a massive casting and have the teeth cut out of the solid metal ensuring perfectly smooth running. The pendulum is a compensated one, beating in one and a quarter seconds with a heavy bob. As a contrast to the old clock the long fall of the weights have been dispensed with, the new clock being wound automatically by electric motors, the weights only falling about six inches. All the work is built on steel girders and encased in a glass-fronted case covered with lead. As the clock is automatically wound it will require little attention beyond an occasional oiling.'
Then in 2004 a survey of the church clock and its two faces revealed that the south side clock face was in a very bad state of repair and needed replacing and the east side face needed renovation. It was decided to do what was recommended and to do it while the scaffolding was still up. The clock's original internal electrical workings were disconnected to fit a new electrical supply. Further repairs to the clock included the dial hands.
Piano
A piano was purchased in 1863 from public subscriptions for the Church's Choral Society.
Organ
It is thought that the organ, of the barrel type, ceased to be used when the balcony was removed from under the tower in the mid-19th century. The organ must have been replaced by the 1860s because the parish magazines of that time reveal that the salaries of the organist, £15, and organ blower, £1.10s., were provided by parishioners' subscriptions.
A new organ for the church was installed and used for the first time on 8 November,1882. The celebrated organist was E H Turpin Esquire.
Mr Kirkland was called in later to tune the organ but explained it was an impossible task until it was cleaned.
In 1930 the organ was modernised, enlarged and pneumatic action introduced.
During the restoration of the church in the 1980s, it was decided to purchase a pipe organ to replace the electronic one. The opportunity arose to buy a 1920 Henry Willis Organ from St Stephen's Church, New Hutton, near Kendal in Cumbria. It was taken to Cousans' workshops in Lincoln for renovation and restoration and then installed in St Edmund's Church in 1989 in the east end of the north aisle in St Martin's Chapel alongside the choir stalls. A brass plaque reads 'The Willis Organ was purchased in 1988 with a bequest from Katherine Nancy Stafford.
The church organ was later rebuilt and upgraded by Henry Groves Ltd. Once done, the organ was turned 90 degrees and in doing so gave more light from the window above.
Organists
Very often the organist would take on another role as well. Organists through the years have included:
Thomas Battersby, also the schoolmaster, Master Willie Warner, Charles Brooks, Mr Levick, also choirmaster, Spencer Dutton.
There was a presentation of an illuminated address to Spencer H Dutton who retired as organist at St Edmund's Church after 37 years in 1941. The signatures were of the Vicar, the Rev J R N Hooker; the Curate, the Rev L C C Maddox; Mr A Munks and Mr C F Bosworth, churchwardens; Mr L Davis, secretary of the church council and members of the council. The illuminated address was an album of special pictures of both the interior and exterior of the church and had been made by a London firm of art publishers. NB – wouldn't it be wonderful if that album still exists today for us to see.
Mr A Rose, John Gill, Miss J Handley, Miss D Jacques, Mrs Neale, David Webb, D I Hartwell, Fred Clarke, R K Holland, David Burnham, Robert Burton, also parish secretary, Ian Bevell, Jenny Newborough, John Gull, Robert Aldread, Ian Bevell
Mrs Bess Wright, David Watson, Mrs Annie Bunce
Choir
In 1866 the choir began wearing surplices. The choir robes were stolen in 2004 and then in 2007 some choristers' robes and scarves were made by Mrs Lynne Taylor.
Chaplains
Appointments to Chantry Chaplaincy were made until the time of the Reformation in the 1530s.
1344  John Stuffyn (or Job)
1348  Richard De Curtelyngton
1349  Richard De Bylling
1360  Richard De Newbold
1379  Thomas De Fabyyon of Wardon
1417  Richard Susanson
1432  John Wryght
1434  Warion Knight
1458  Richard Wartir
James Iveson
1511  Peter Pilkington
1521  Thomas Hareson
1533  Thomas Southworth
Priests
By the time of the Reformation in 1534 the chantry was valued at £4 per annum.
From then Priests were appointed
1580  George Dunvil
1588  Anthony Bennett
1601  James Collie
1608  Richard Barlow
1609  ….. Newton
1614   ….. Spencer
1617  John Newton
1640  William Carte
1650  Edward Manistey
1662  Francis Chapman
1673  Charles Carver
1684  Thomas Callice
1686  Latimer Cross
1695  James Holcott
1698  Thomas Ashcroft
1741  William Clarke
Perpetual Curates
1787  John Wright
1800  Thomas Hurt
1820  William Goodacre
Vicars
1860  Alfred Brook
1871  William John Williams
1874  Charles Webb
1908  Edward Thomas Harcombe
1919  Basil Brooker
1925  John Lowndes
1933  John Richard North Hooker
1946  Arthur Geoffrey  Barker
1953  Lindsay Shorland Ball
1961  John Anthony Johnson
1971  Dillwyn Davies
1986  David Steven
2000  Anne Smith
2003  Alan Scrivener
 2019  Nicola Jane Carnall
Other Curates, Associate Priests and Deacons who have served here through the years include:
James Lynam, Thomas Stevens, Robert M Weale, P G Benson, Digby Turpin, Francis T Gawthern, H St Maur Willoughby, Sheffield Hardinge, Herbert Coke Fowler, J P Rogers, J Fox, Frederick Lionel Streeten, W HKirby, E B Michaelson, Sidney Agar Cuthbert, Huntley Curtois, J F Tomlinson, Lionel Edmunds, Lawrence Blackmur Lee, Sidney John Galloway, Norman Charles Smith, Douglas Frederick Coles, Alfred John Hallmark, Frederick John Starmer, L C C Maddox, B Hill, Henry Maurice Jenkins, George Sprittles, Ronald G Christian, Ken Gration, F G Lacey, Ken S Targett, Peter Wright, R S Bennett, George Kirkup, P M Bishop, Anthony MLuckcuck, John Pulman, Frank Mclean Rhodes Lowe, Robert Whittaker, Ian Pallett, David Hull, Paul Whitehead, John Chalk, Barry Will, Janet Heath, Graham Holloway, Sue Caddy, Janice Dewhirst, Claire Dawson.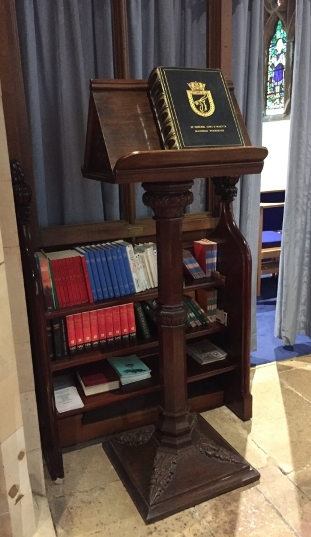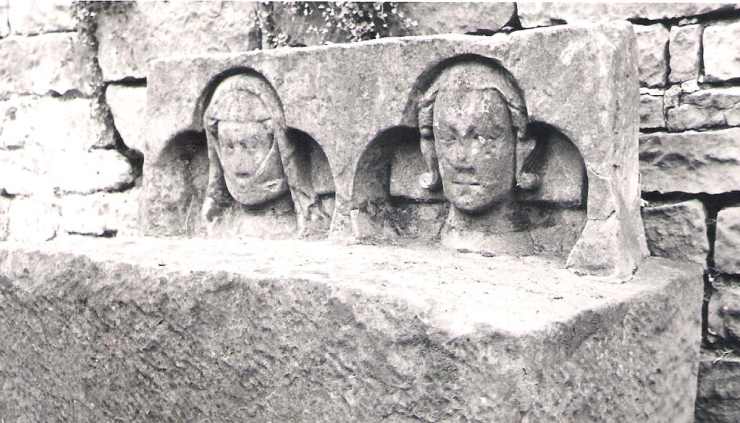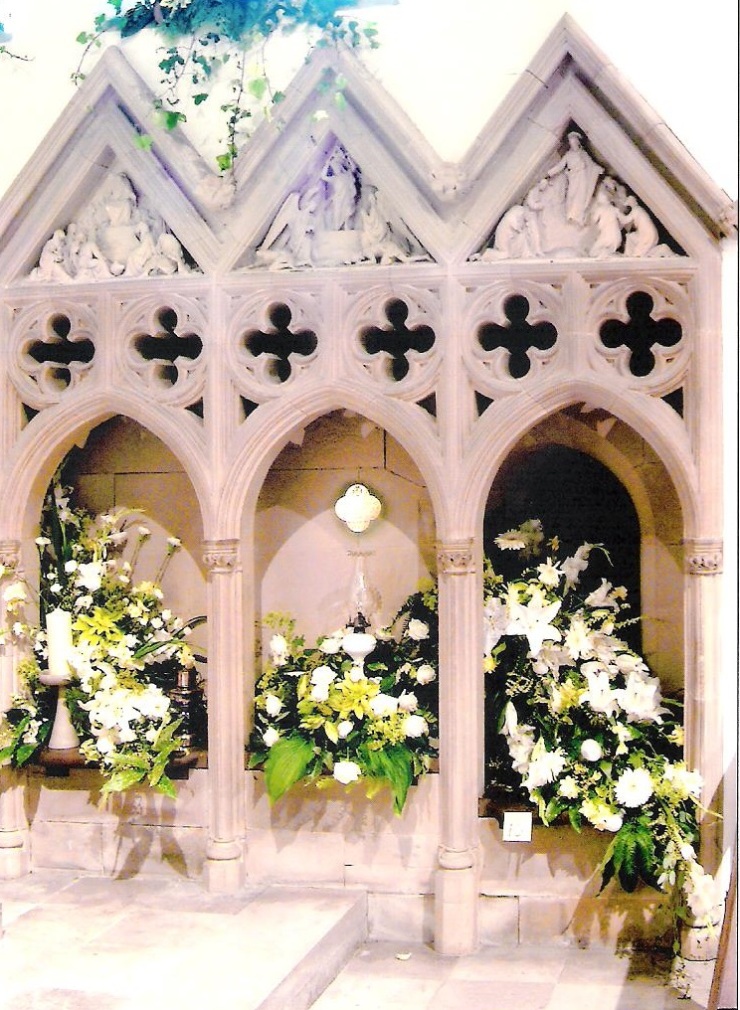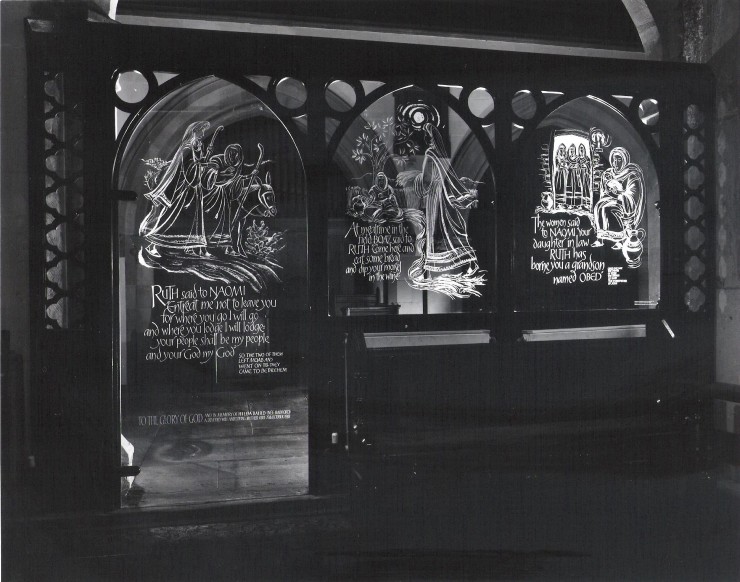 Lectern
In 1866 it was proposed to have a lectern in church. The lectern to the side of the chancel was given by Mrs Need in memory of her son who died at sea. It was carved from a piece of wood from Sherwood Forest and was made by the Misses Need. This was vandalised in 1975 and was later restored by Ben Else.
The Lectern Bible was presented by the Commandant and Lt Commander of HMS Antelope in memory of Mark Royston Stephens, who died in the Falklands War in 1982.
Headstone
Part of a finely carved headstone originally outside, was brought inside the church to prevent further weathering. It is of a man with long hair and a lady wearing a wimple and is thought to date from the 14th century. I think it portrays a couple of some importance in the community, and perhaps commissioned by someone who could afford such a headstone. From all that supposition could it represent the Stuffyn family, who established the chantry?
At that time Robert Stuffyn was a member of an important Mansfield Woodhouse family and a wealthy wool merchant working in Newark. He paid the Austin Priory of Felley six marks of silver per year to provide him with a chaplain who would pray for his and his wife Alice's souls and those of his ancestors at the Altar of the Blessed Virgin at Mansfield Woodhouse.
Inscriptions, Memorial Plaques, Fittings, Commemorations, Memorials, etc
Chancel
The stone carved sedilia are located to the south side of the altar.
The inscription on the brass plaque reads: 'To the glory of God and in loving remembrance of Alfred Brook M.A. Vicar of this parish AD1860 –1870. These sedilia were erected by Harriet his wife AD 1877.'
On the oak altar rail gates is a brass plaque. The plaque bears the inscription which reads: 'To the glory of God and in loving memory of G Alfred Clarke. These gates were given by his wife, March 1913.'
A tall oak candle holder commemorates the Readership of Irene Stubbs in 2001.
A tall oak candle holder with brass plaques reads: In remembrance of John Duncan Woodcock aged 33 years. Killed in action Cassino, Italy, 5 December, 1943.
Lady Chapel (formerly Chantry or Digby Chapel)
A three-panelled, oak-framed, engraved glass screen, depicting the Bible story of Ruth, separates the Lady Chapel from the Chancel and was in memory Hilda Baird and provided by her son Kenneth.
Panel One reads: 'Ruth said to Naomi entreat me not to leave you for where you go I will go and where you lodge I will lodge. Your people shall be my people and your God my God.' (So the two of them left Moab). And went on till they came to Bethlehem.
An inscription at the bottom of the panel reads: 'To the Glory of God and in memory of Hilda Baird, nee Radford, a devoted wife and loving mother obit 25th October 1988.'
Panel Two reads: 'At meal time in the field, Boaz said to Ruth, come here and eat some bread and dip your morsel in the wine.'
Panel Three reads:
'The woman said to Naomi your daughter-in-law Ruth has borne you a grandson named Obed'. (Obed became the father of Jesse, the father of David, the forefather of Jesus.)
An inscription at the bottom of the panel reads:
Designed and engraved by David Pilkington 1992. Original drawings by David Kenworthy. Installation by Mansfield Glass and Albert Greaves.
An inscription on a brass plaque on the south wall of the Lady Chapel reads:
'To the memory of John Archibald Taylor, warden of this church for 15 years who died at Gibraltar March 20th 1932 aged 66 years.
This window was erected by members of his family together with the directors, officials and workmen of the Sherwood Colliery.'
Hall Family Vault
Underneath the Lady Chapel is the family vault for the Hall family of Park Hall. They are: Hester Hall – wife of John Hall died June 8th 1761, aged 63. John Hall Esquire – died June 8th 1763, aged 63. Mary Hall – died October 23rd 1787, aged 62. Urban Hall Esquire – died 18th April 1808, aged 74. Major General Hall – died July 26th 1823, aged 53. Lititia Hall, widow of the Major — died May 19th 1870 aged 87. Mary Ann Hall, wife of Francis Hall Esquire — died August 5th 1877, aged 66. Francis Hall Esquire – died Oct 5th 1888, aged 82. William Welfitt Hall died 14th October 1903 aged 45.
There is also a very small lead coffin in the vault inscribed: H T with Y underneath. Bert Wells' research among the parish registers possibly reveals the mystery surrounding the initials on the small coffin: Hester, daughter of John Hall, married Henry, the third Earl of Sussex, by whom she had a daughter Barbara and a son, Henry Talbot. The daughter married Edward Thoroton Gould of Mansfield Woodhouse. The surname of the 3rd Earl of Sussex was Yelverton. In the church register there is the following entry: Henry Talbot, son of the Honourable Henry Yelverton and Mrs Hester his wife, Sept 20th 1757.
An altar for the Lady Chapel was made by Ben Else.
A baby altar was made by the Matron of Debdale Hall at her craft class. When Debdale Hall was no longer used as a hospital she gave the baby altar to the church.
Aumbry
In December 1949 the Vicar, the Rev Arthur Geoffrey Barker, dedicated the aumbry in the Lady Chapel.
An Inscription reads: 'To the Glory of God this Aumbry was given in memory of his wife Alice Louisa Lowndes by the Rev John Lowndes Curate of Mansfield Woodhouse 1919 –1925 and Vicar 1925 –1932.'
The stonework was carried out by Mr Frank Blackwell, and the joinery by Mr Frank Townroe. Linings and curtains for it were made by the ladies of the Altar Guild.
The Vicar also dedicated the lacquered brass sanctuary lamp given by Mrs Tryner in memory of her son. It bears the inscription: 'To the glory of God and in loving memory of Kenneth Stevens, RAF, killed in action, 28/29th April, 1942. RIP.'
South Wall
Turner Stone and marble plaque inscription reads: 'TO THE GLORY OF GOD AND IN MEMORY OF FREDERICK JOHN TURNER who died 10 March 1906 aged 82.
This tablet is erected by the many friends whose affection and esteem he won by his kind & genial nature and integrity justice and enlightened views in the management of the estates of the Dukes of Portland for which he was for forty eight years agent.
A ward in Mansfield District Hospital has also been erected and dedicated by them as a fitting monument to one who was distinguished by his benevolence and the public spirit of a good citizen.'
Newman Ellis Memorial Plaque Inscription reads: 'TO THE GLORY OF GOD AND IN LOVING MEMORY OF FRANCIS NEWMAN ELLIS
Knight of Grace of the Order of St John of Jerusalem in the British realm. Born at Leicester 19th November 1855 died at Debdale Hall in this parish, 9th October 1934.
In all thy ways acknowledge Him and He shall direct thy paths.'
Second World War Wooden Plaque Inscription reads: 'PARISH OF MANSFIELD WOODHOUSE. IN MEMORY OF THOSE WHO GAVE THEIR LIVES IN WORLD WAR II 1939 –45.
BALL B ; JAMES B A; RICHARDS R; BARLOW N; JOHNSON F G; RICHARDS W M; BAUGH R; JOHNSON R; SADLER J F; BEASTALL C ; JORDAN J R; SARGEANT F; BLOUNT G E; KENYON O L; SKILLING W J; BOSWORTH V G; LINDSEY N; SMITH G; BRAMWELL D; MALLATRATT A; STEVENS K W; BREWIN R; MILLNS R; STRAW T; BROADHURST S; MITCHELL R; TRUMAN J; CLARKE S O; MOXON F; WAIN J; DAVIS P; MUNKS W L; WALLS H K; DRAPER C E; OWEN H; WALTERS B L; EASOM F; PARKES K H; WARDLE L M; EASOM J; PEAT G H; WARNE W; GALE L T F; PETERS F; WHITE J; HAWKINS A; RANBY W; WIDDOWSON F; HAYNES W; RANDALL W; WILKINSON F J R; HUNT J; RATHBONE G; WOODCOCK J D; ILLINGSWORTH M; REDFERN G; WOODCOCK R G
GIVE REST O LORD TO THY SERVANTS & LET LIGHT PERPETUAL SHINE UPON THEM. AMEN'
Falklands Memorial
 underneath the WWII Memorial reads:
'In loving memory of MARK ROYSTON STEPHENS. Aged 18 years. Killed in action aboard HMS ANTELOPE, San Carlos Waters. FALKLAND ISLANDS. 23rd May 1982. For Country and Freedom
Wooden Plaque reads:
'In loving memory of Dr Harold Draycott Preston whose ashes we buried in the churchyard, benefactor and faithful servant of this Church for 30 years. Church Warden from 1945 til his death on February 23rd 1952. RIP.'
Nave
Marble plaque reads: 'To the revered memory of Walter Need, Captain R N, youngest son of Colonel John Need, of Mansfield Woodhouse and Blidworth. Born September 19th 1809 died April 5th 1901 and Emily McMahon Need for his wife born March 11th 1831 died March 29th 1910.
Devoted worshippers in this Church, this tablet is placed here by their children.
In thy presence is the fullness of joy.'
They both lived at the Manor House adjacent to St Edmund's Church. They are buried in St Mary's Churchyard, Blidworth, where many of their family are also buried and near to 'Fountaindale House' where many of their family also lived.
Book of Remembrance oak pedestal cabinet
Inscription reads: 'In Memory of Thomas Clifford Playfoot, 1915 – 1988.'
Wrought iron pedestal votive candle holder
Inscription reads:
'In loving memory of Len Piper 7th September 1924 – 23rd January 1997.
A faithful member of this Church and Funding Officer for many years.'
Tower
Above the tower door hangs a wooden plaque with steel curved inscription reads: 'This clock was made in the 21st year of the reign of Her Majesty Queen Victoria for the parish church of Mansfield Woodhouse by George William Cope of Nottingham July 1859.
And paid for from the rents of the Clay Pit Lands by John Beardall, John Oaks, John Booth, Thomas Brooks, William Cripwell, trustees of the clay pit lands. – William Cripwell, Thomas Tebbet, church wardens.'
Underneath is a wooden plaque with brass
inscription reads:
'This inscription from the church clock is placed here in the memory of
Clarence John Read-Johnson and in thanksgiving for his 50 years' service with the Mansfield Woodhouse District Council.'
NB The clock referred to here is not the one that is on the church tower now.
Tower stairs
Stone plaque reads: 'In memory of William Pinckney of Mansfield Woodhouse Esq who was a very worthy gentleman and esteemed by all that who knew him. He was one of the tellers of ye exchequer in the reign of King Charles ye II and dyed September 13th 1694.
In memory also Leonard Pinckney Esq (only son of the said William) who was verderer of ye forest of Sherwood, customer of Newcastle, gentleman usher to Queen Anne, King George I , King George II and one of his majesty's justices of ye peace for this county. Of all which places he was possessed when he died (much lamented). August 13th 1731 aged 52.
He married Elizabeth the daughter of John South of Kelfton in ye county of Lincoln Esq. She was maid of honour to King James II's Queen and surviving without issue. Erected this in affection to her dear husband.'
Above Tower Door To Belfry
A fancy shaped stone plaque reads: 'Here lieth the body of Dame Jane Wharton, daughter of Rowland Dand of Mansfield Woodhouse, in the county of Nottingham Esq. who was first married to Leonard Robinson, of Kirkby Ravenforth in ye county of York on 9th January 1671.
She had issue by him one daughter who died young. Her second husband was ye Hon. Sir Thomas Wharton Knight of Ye Bath brother of ye Wright Hon ye Lord of Ye Lord Wharton whom she married ye 4th May 1676 and had issue by him two daughters Elizabeth and Jane.
Elizabeth married Thomas Benet of Salthorp in ye county of Wilts Esq.
Jane married John Digby of Mansfield Woodhouse in ye county of Nottingham Esq. She departed this life on ye 14th day of June 1714 in ye 75th year of her age. Here also lieth ye body of Jane daughter of Thomas Benet of Salthorp in ye county of Wilts Esq by Elizabeth daughter of Ye Hon Sir Thomas Wharton knight of ye Bath. His second wife born May ye 5th 1714 departed this life August 11th 1716. (NB THERE IS AN ERROR ON THE INSCRIPTION REGARDING THE DATES IN THE LAST SENTENCE).
Left of Tower Door
West Wall Stone plaque reads: 'Sacred to the memory of Harriet Wright Milner who departed this life 3rd Feb 1826 aged 38 years.
Also Mary the infant daughter of Edmund and Harriet Milner.
Sacred to the memory of Capt Edmund Milner R N who died at Douglas Isle of Man 28th Sept 1841 aged 63 years.
There remaineth therefore a rest to the people of God.'
Stone plaque reads: 'Elizabeth Eyre ——— eldest daughter of Jervais – formerly of Rampton in this county died April 1st 1750.
This monument is erected to her memory at the request of her only surviving sister Diana Eyre who died August 1763 aged 71 years and also lies in this church. The righteous shall be had in everlasting remembrance.'
Tower, North Side 
Stone plaque reads: 'Sacred to the memory of Robert Toplis who died March 4th 1831 aged 64 years. ENS ENTIUN MISERERE NEI Then also Ellen Relict of the above Robert Toplis, who died May 3rd 1834 aged 67 years. Blessed are the dead who died in the Lord.
Stone plaque reads: 'Sacred to the memory of John Anson Smith Esq who departed this life March 10th MDCCCXXV aged LXV
Also Ann Smith his wife who departed this life September 13th MDCCCXXVII also aged LXV. Also William Anson Smith who died September 25th in MDCCCXXXV aged XL. La Mort est elle un mal. La vie est elle un hien.'
Stone plaque reads: 'In affectionate remembrance of Edward Woodcock who died February 15th 1828 aged 83 yrs. Also of Sarah relict of Edward Woodcock who died December 27th 1839 aged 84 yrs.
Charity Board reads: Charity given to the poor of this Parish. Roland Dand Esqr gave Lands in Mansfield to buy two Coats yearly containing three yards of Cloth each to be given to two poor people upon St Simon and St Jude forever. Mr Price out of his Lands in Mansfield late in ye possession of John Langford gave ten shillings yearly to ye Poor for ever. John Bingham left ten Shillings yearly to ye Poor to be paid out of ye Rents of his two Old Mill Closes for ever. Richard Eyre left five Pounds ye Interest of which to be paid to ye Poor for ever. William Whelpdale left two shillings a year to be paid out of his Estate yearly to ye poor for ever. Paul Wilson left six Shillings a year to ye poor to be paid out of his little Rough upon St Thomas day forever. Mrs Rosamond Watson gave one hundred pounds to be laid out in purchase of Lands ye Rents & Profits whereof to be paid yearly towards ye putting out poor children. Apprentice which said Hundred pounds is paid in to this Parish and for which the agree to pay Four pounds per Annum till the said money can be laid out in a proper purchase or upon Land Security. Mrs Crosse left two pounds and ten shillings to be Distributed annually to the poor of Mansfield Woodhouse which said money is payable upon Saint Peters Day out of the rents of the Brackenhurst Closes in the Parish of Southwell now in the Possession of Richard Turner Becher Esqr of Southwell aforesaid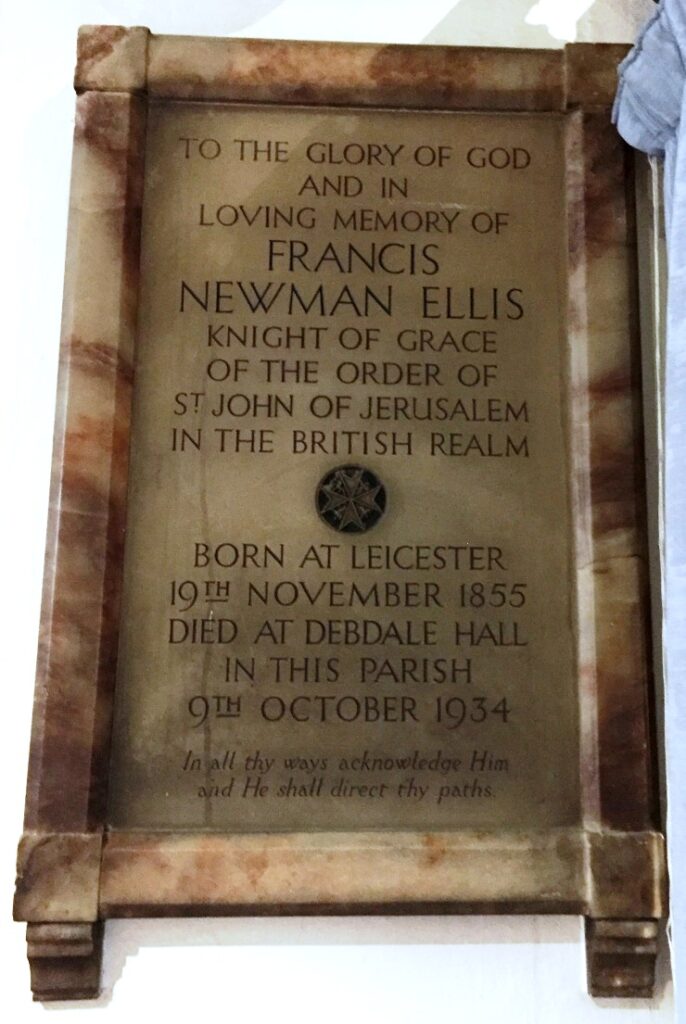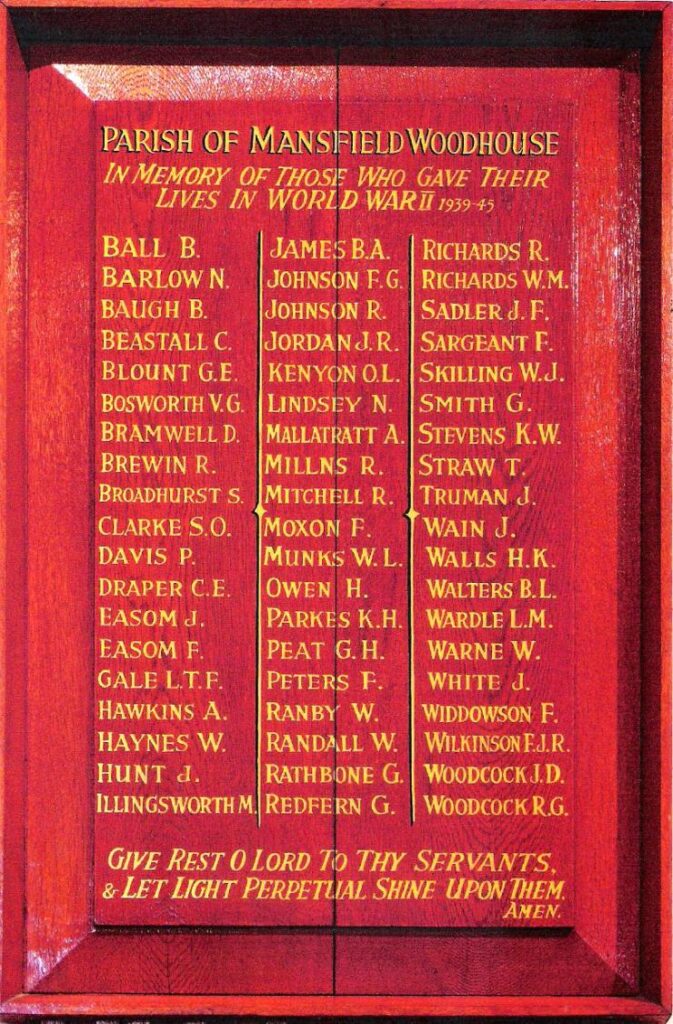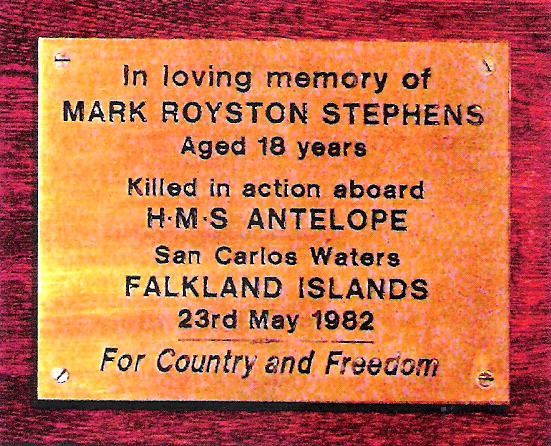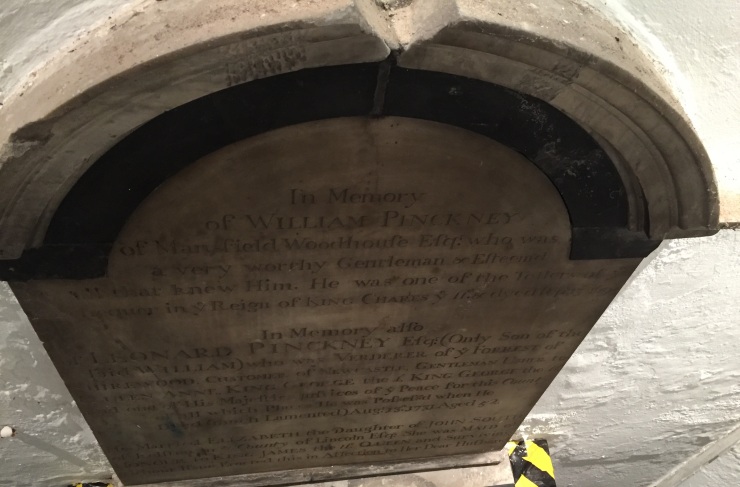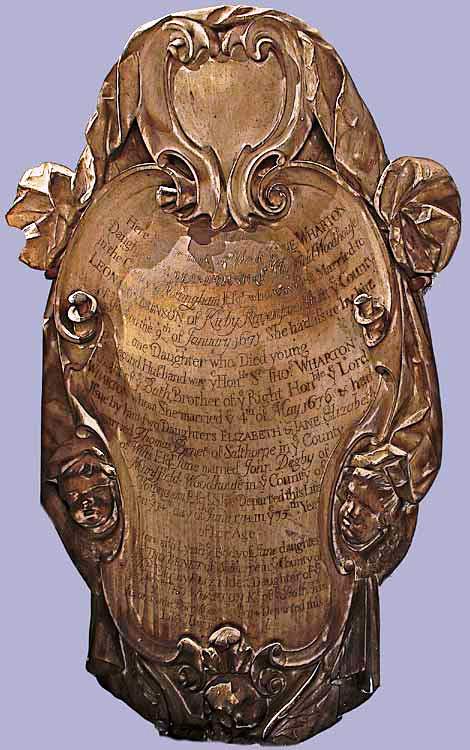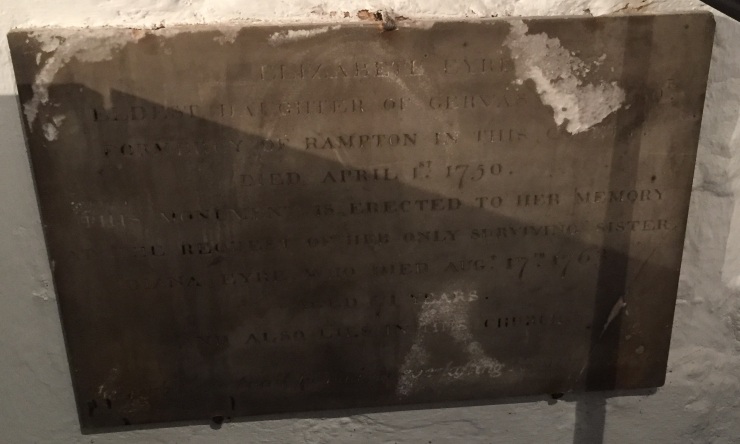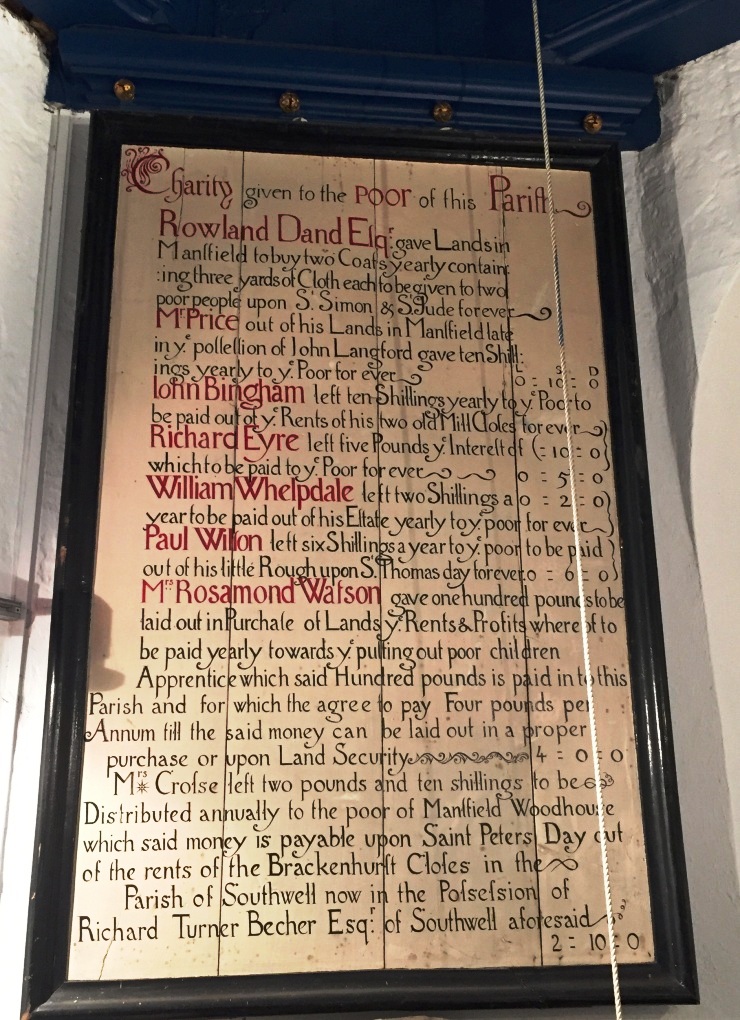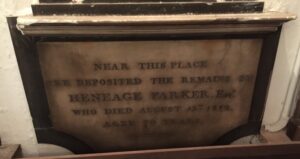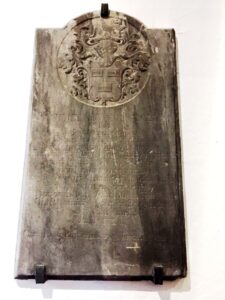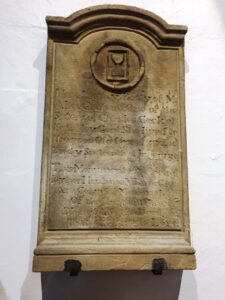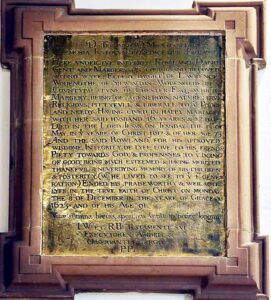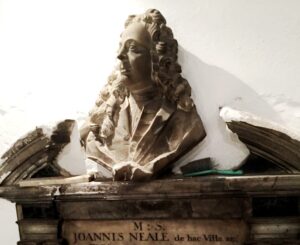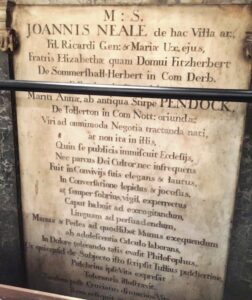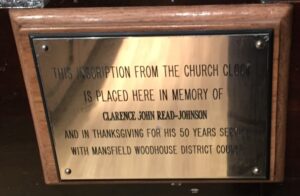 Joseph Johson Memorial Plaque reads:'Sacred to the memory of Joseph Johnson who died May 15th AD1811.'

Heneage Parker Memorial Plaque reads:'Near this place are deposited the remains of Heneage Parker Esq. who died August 13th 1812 aged 76 yrs.'
A plaque was placed in the belfry in recognition of John William Horrobin, born in 1902, a bell-ringer at St Edmund's Church from the age of 14, for 60 years.
North Wall
The Gulielmus Tunstall Memorial Plaque Inscribed in Latin (Coat of Arms inscription 1728)reads: 'GULIELMUS TUNSTALL'
The Mrs Alice Gething Memorial Plaque reads:'Here lieth y body of Mrs Alice Gething. One of the sisters of Charles Cack of Brinsley, Gent. She lived to the good old age of 77. Died y sixteenth of June 1759.
This monument ……..(the rest is sadly unreadable)
North Wall Of Chancel
The Rowland Dand Memorial Plaque reads: 'D. Trinvni On Gloria. Memoria Ivstorvn Benedicetvr. Pro 1617, Here under lye interred Rowland Dand Gent.
And Margery his loving and beloved second wife; eldest daught of Laurence Wodenothe, of Shavinton, of Wodenothe in ye Countypalatyen of Chester Esq. Which Margery being of age Nervus Natere Trve religious; pittyfull and liberall to ye poor and needy.
Having lived in happy marriage with her said husband 46 yeares and 27 daies died in the Lord Jesus on Tuesday 13th May in ye yeare of Christ 1617 and of her age 73.
And the said Rowland for his approved wisdome, integrity of Lyfe, love to his friends, piety towards God & propensens to ye doing of good; being much esteemed and having merited thankful never dying memory of his children & posterity (Wch he lived to see to ye 4th generation) ended his praiseworthy and well-acted life in the true faith of Christ on Monday 8th December in the year of Grace 1623 and of his age 91. Vitae Summa Breuis Spn Nos Vetat Inchorae Longam. Iwet R.B. Testamenti S B Execvtores Amoris & Observanta ergo PP.'
Tower wall
Joannis Neale Stone bust and plaque inscription is in Latin
Tower
Clarence John Read-Johnson Brass Plaque reads: 'This inscription from the Church Clock is placed here in memory of Clarence John Read-Johnson and in thanksgiving for his 50 years' service with Mansfield Woodhouse District Council'
South Wall
Roy Stubbs Brass Plaque reads: 'The new inner doors were installed to allow the glorious Light of Christ To shine in the church. In loving memory of Roy Stubbs, 8th December 1930 – 26th May 2011'

Roy Stubbs Brass Plaque reads: 'To the glory of God and in memory of ROY STUBBS. Those who hope in the Lord shall renew their strength they will rise on wings like eagles'
Tombstones
Chancel floor
North side
Inscription reads: Beneath are interred the remains of Ellen Toplis Catlow (daughter of the late Revd Samuel Catlow) who departed this life March 4th 1835, in the 33rd year of her age.

South side
Inscriptions reads: 'Here lieth the body of Leonard Pinckney Esqr who died the 13th August 1731' – 'Here lyeth the body of Elizabeth Pinckney widow of the above Leonard Pinckney who died Febry 18th 1747'
Inscription reads: 'Here lies Hayman Rooke Esq. Obit Sept 1806. Aged 83'.
Exterior Features
Most churches have rainwater spouts in the form of Grotesques and Gargoyles. St Edmund's Church is no exception.
A light near the steps and the west door was installed.
Denis Atkins donated and installed the hand rail by the church steps.
The new south porch wrought iron gates were provided by the family of Robert and Elsie Calladine and marked the church's 700th anniversary. Security cameras were installed in both north and south porches.
Keiron Long made a plaque for the church's rose garden on the north path. The roses were bought by parishioners in memory of loved ones. Philip Taylor gilded the black metal stake in the garden.
In November 2018 to commemorate the centenary of the end of the First World War, members of Mansfield Woodhouse and Pleasley Vale Women's Institute and the Triangle Club crafted hundreds of poppies to decorate screens placed at the south porch of St Edmund's Church. Red ones were for remembrance, white for peace, black for members of the Commonwealth, and purple for the animals, all who died in war.
The Crochet Club made the poppy banner that hung near the south gate.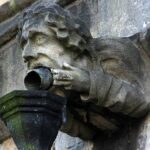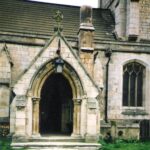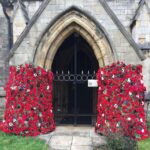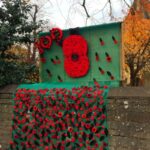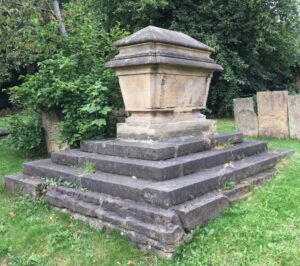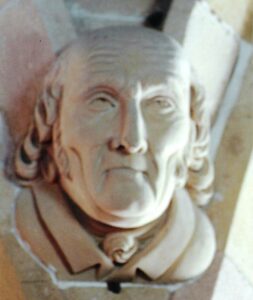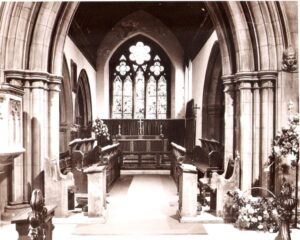 Listed Memorials
In the Churchyard there are four listed memorials:
A headstone on the west side (Church Street side) of the church, 28 metres south of the chancel is listed to Grade II. Chamfered to the top corners it is inscribed '1665, Jane Witworth buried November 14th.'
A headstone dated 1694 and chest tomb dated 1772 on the west side, 10 metres south of the chancel, is listed to Grade II. The headstone has a scrolled shape to its top and is to John Eare Senior. The Chest tomb has moulded panelled sides and top and is inscribed to Edward Willey.
A headstone on the west side, three metres south of the Lady Chapel, is listed to Grade II. It has an arched and shouldered top and is inscribed 'Here lieth the body of Arthur Caulton Senior, who died the 8 — 1682.'
A mid-18th century sarcophagus on the west side, 10 metres south of the south porch of the church is listed to Grade II. It features a rectangular base of four steps, rebated corners, moulded top edge, hipped lip and it formerly had a railing. The inscribed panels on three sides are mainly illegible. Its west side has a wreathed cartouche with a coat of arms.
Church registers
The church registers for baptisms, marriages and deaths date from 1653. Miss Emily Mary Need transcribed at least the marriage registers, for we have in the archive a copy of her work.
A charming story:
Inside the church there are some stone carvings of heads high up on the pillars. One shows John McDonald, churchwarden at the time when the nave was altered 1847 to 1848. On his 100th birthday he wagered £100 to anyone of his age who could beat him in a 100 yards race, from the church to the cross, on Church Street. Nobody challenged him!
Items Purchased or Given In Memoriam include: 
A chalice was given by Miss May Gething in 1921. The family of former churchwarden Arthur Marston donated two new churchwardens' staffs in his memory.  Mrs Florence Wilson made a knee blanket for the church wheelchair. A donation in memory of Freda Briggs was to purchase new hymn books. A donation in memory of Ivy Piper was to purchase a bookcase for service materials and Bibles. The family of John Pinder gave a legilium in memory of his lifetime of service to the Christian Church. Two candleholders were given in memory of Duncan Woodcock who fought in the Second World War and died in battle in Italy on 5th December 1943. His father was verger. Mansfield Woodhouse Toc H branch chairman Roger Maywood presented a dramatized version of the Bible to mark the 75th anniversary of Toc H. The Manor School pupils made offertory plates. The nave altar rails were in memory of Frank Allan. He was a headmaster of St Edmund's School and later Yorke Street School and was very involved with the church over the years, as parochial church secretary, church treasurer and parochial administrator. Mr Ryley donated a bureau for the clergy vestry. The Altar Guild wanted to replace the cross on the altar which was fragile and to match the new one with the processional cross. Mr Ben Else made a cabinet to hold the Mothers' Union banners, installed in the Lady Chapel. He dedicated it to the memory of his wife, Mary. The Foster family gave the branch a new banner. Mrs Playfoot and Mrs Edwards each made an embroidered hassock for the Lady Chapel Sanctuary. Friends and neighbours of the late Valerie Ward gave a rose bowl and chalice to the church in her memory. The Vicar dedicated a new altar frontal in memory of Mr Wilfred Edwards, and a new green chasuble in memory of Mr George Andrews. They were made by Mrs Edwards. The Music Group commissioned a new cope to commemorate the diocesan centenary, and it was decorated with the crown and arrow badge of Edmund, king and martyr. Anonymous gifts of flower holders for the church window ledges were in memory of Mr Ben Else and Mrs Janet Thurman. A pair of brass candleholders, given by Mr and Mrs Barlow, were in memory of Janet Thurman, and a pair of processional candle holders given by Mrs Upton were in memory of her husband, Christopher Charles Upton.
Mr and Mrs R B Grinter presented a hand carved oak verge, made by Mr J B Spooner of Mansfield, to St Edmund's Church. It was decorated with oak leaves and an acorn, and the medallion depicted the emblem of St Edmund, a crown and arrows. It was dedicated by the Curate, the Rev John Pulman on 17th November 1985 during the patronal service. The first to use it was the newly appointed verger Mr John Whitlam. The Young Wives made a new banner; and a white burse embroidered by Altar Guild member Mrs M Edwards which featured a Maltese Cross, was in memory of her brother-in-law who was killed in Malta during the Second World War.  Donations in memory of Frank Allen were for the new nave altar and communion rails.
New curtains behind the high altar were in memory of Walter Woodcock from his family and new curtains forthe Lady Chapel screen were in memory of Clifford Jacques and Paul Larysz from Stuart and Christine Jacques. A new oak pulpit book rest was in memory of Frank Jackson.  The miner's lamp in the Lady Chapel was donated by Mrs Tryner in memory of her husband. The new hearing aid loop system was installed in March 1989 and dedicated in memory of Penny Stubbings.  Mrs Hinchley donated money for new anthem books and a music stand.  Mary Essex donated a copy of the newly published dramatised Bible in memory of her mother Doris Patey.  Mrs Goulding donated a pyx for taking communion to the sick and housebound, in memory of her husband, Horace.  Mr Makings and family made a donation in memory of his mother Irene Makings. It was used to buy materials for the embroidery group to make a new Lenten chasuble. Mr Salmon carved a new crib set.  A book for the readings for Parish Communion was given in memory of Hilda Whitlam. Gladys Cross donated towards the cost of a figure of Mary and Jesus at the entrance to the Lady Chapel in memory of her husband, Maurice.  Roger and Mabel Maywood gave a lectern edition of the Revised Common Lectionary (RCL). Mrs Ivy Piper donated a candle stand in memory of her husband Len. New chairs were purchased for the Lady Chapel. A grant of £200 was received towards the cost of a banner to mark the 700th anniversary of the church. A new nave altar was donated to the church. A picture of the Martyrdom of St Edmund was purchased. In the Lady Chapel a painting of Jesus with his mother in the tomb, was painted by David Saxton.  Altar Guild provided a new carpet for the Church.  A wrought iron pedestal was in memory of verger John Whitlam.  A processional cross was in memory of William Ernest Sheppard.
Vandalism and Theft
The Chad newspaper reported several disturbing accounts of vandalism and theft through the years:
The church was vandalised horribly on June 7th 1975 only a short while after the restoration had been completed. A fund was set up to restore and repair the damage. Thousands of people visited the church and were horrified to see the damage and donations and collections were made all over the town.  Raiders smashed their way in to the church through two leaded windows in 1992, and broke the aumbry.
St Edmund's Church was targeted by vandals in 2001 in a series of attacks culminating in damaging a door panel leaving the church even more unsecure. Vandals attempted to break into the candle vaultive; they damaged the Royal British Legion's standard while trying to force a way into the aumbry where the consecrated bread was kept; they stole copies of the Bible and a small amount of cash; and they took a set of keys, so the door locks had to be changed. St Edmund's Church was again targeted in 2002. A bonfire was lit in the north porch, Ouija boards were drawn in indelible pen on the church floor, excrement was smeared over one of the doors, a security light was smashed and dismantled, a window broken, the north porch stripped of its roof tiles and headstones damaged. And then in 2004 about 12 York stone paving slabs were stolen from the church path. Mark Bedford managed to repair the path enabling a wedding to go ahead.  In 2007 the vestry roof had its lead stolen three times. The underlying wooden structure was exposed to the rain and water was getting through to the internal decoration of the vestry.
Listed Building
St Edmund's Church is listed as a Grade II * building
Description:  SK 5463 SW MANSFIELD WOODHOUSE Church Street, (West Side)
National PRN No 7/26 Church of St Edmund – Listed on 28.1.57 Grade II*
Parish church. 1310. Spire 1304. Restored 1847 by Sir G. G. Scott. Further restored 1859. Chancel restored 1878. Chantry chapel c.1920. Clergy vestry 1930. Snecked stone, dressed stone and ashlar. Ashlar dressings.Slate, concrete tile and lead roofs, gabled and lean-to. West tower with spire, nave, north and south aisles, chance l, vestry, chantry chapel, north and south porches. Moulded plinths, eaves and parapets. West tower. C 13.2 stages. Single string coursed. 4 pairs of corner buttresses, 3 set offs, those to east engaged with aisles. First stage has to south a small lancet. To west, shouldered C 19 door and sill band. Above, restored C 14 double lancet with hood mould and mask stops. To north, a lancet. Second stage has 4 double cusped ogee headed bell openings with hood moulds. Clock faces to south and east. Octagonal broach spire has 4 gabled lucarnes (a type of window) with crosses, containing double ogee headed openings. Above, 4 similar smaller lucarnes, finial and weathercock. Nave has coped east gable with cross and single round window. North aisle restored C19 in C15 style. 4 bays. Single corner and 4 intermediate gable buttresses, 2 setoffs, 4 gargoyles. Side wall stack to west.West end had a C14 double lancet with decorated tracery. North side has 3 triple ogee headed lancets with Tudor arched reveals. North porch. C14, restored C19. Two corner buttresses to north. Cove and roll moulded doorway with filleted shafts, round bases and capitals. Hood mould and mask stops. Large C19 hanging lamp. Interior has single wood bench and scissor braced roof. Inner door double chamfered and rebated with moulded head and C19 door. Vestry and organ chamber C20. Has single corner and single side wall buttress and single gargoyle to east. North side has shouldered door to east and to west, a small lancet. To its right, a trefoil light and a paired lancet. Chancel, 2 bays, has coped east gable with cross. East end has string course and sill band. C14 style five light lancet with geometrical tracery, shafts, hood mould and mask stops. South side has single corner buttress to east, and 2 lancets with hood moulds. Chantry chapel, C20. Single bay, has sill band and coped east gable. Single corner buttress. East end had C14 style triple lancet with geometrical tracery, coved Tudor arched head and hood mould. South side has a triple lancet with geometrical tracery, coved square headed reveal and hood mould. South aisle, four bays, has moulded parapet with four gargoyles. Corner buttress to west and 4 buttresses to south, gabled, 2 setoffs. South side has three late C14 triple lancets with cusped ogee heads, decorated tracery, chamfered Tudor arched reveals. West end has C14 double lancet with cusped ogee heads and decorated tracery. South porch is identical to north porch. Nave arcades C 14, restored, 4 bays. Each has 3 filleted clustered piers and 2 matching responds, with water holding bases and moulded capitals. Arches are chamfered and rebated, with hood moulds. C19 king post roof had foliate corbels, arch braces, collars and spine beam. Tower arch, C14, double chamfered and rebated, with hood mould and filleted responds. Tower chamber has west window with stained glass, C19, restored 1919. Bell stage has 3 trefoiled corbels and foliate bosses. North aisle has panelled dado and C19 lean-to roof with arch braces. South aisle has similar roof and to east, C14 arch with moulded octagonal imposts and 2 mask corbels, 1 C14. Oak screen in C15 style 1909. South side has east window with stained glass, 1879. To west, window with stained glass panel and Arms, to Rowland Dand, 1617. Fragment of Flemish stained glass, C14. Chantry chapel has to east panelled dado incorporating earlier piscina and aumbry. East window has stained glass, C20. South side has window with stained glass and brass, 1932. Low pitched roof in C15 style. Chancel arch, C19, in C14 style. Moulded arch, pair of filleted shafts with water holding bases, hood mould and mask stops. Chancel north side has C19 arcade, 2 bays, with foliate capitals, hood moulds and angel stops. Left bay contains organ, right bay, timber screen. Above, central pair of shields with Arms. East window has stained glass, C19. South side has to east C19 piscina and aumbry with hood mould. To its right, elaborate triple gabled sedilia with carved tableaux in tympani, 1877. To right again, arch with traceried wooden screen. Monuments include wall monument to Sir John and Lady Lucy Digby, 1684. Shouldered ogee headed frame with inscribed panel and, above draped cartouche with Arms, containing 2 life-size effigies. Arch-top wall tablet, 1731. Classical style wall monument with Corinthian pilasters and scrolled Arms, to John Digby, 1747. Scrolled and draped cartouche with putti and skull, early C18.Tablet with Corinthian pilasters, apron with Arms, and broken pediment with bust, to Joannis Neale, 1725. Wall tablets, 1761 and 7 C19. Charity board, early C19. Brass C19 and C20. Pair of sculptured heads from gravestone, C14. Fittings include pillar piscina with round stem, flanking shafts, square top and base. Font, C14, restored, octagonal plinth, stem with water holding base, round tub, C19 conical wooden cover. C19 ashlar pulpit, octagonal, with traceried panels, on figure carved corbel. C19 wooden lectern. Shaped, moulded C19 mahogany benches with fleur de lys finials. Panelled stalls, early C20. Armchair with chip-carved back, mid C17.
Sources and Credits:
Much appreciation goes to Keith Morris, Fred Hutchinson, the Southwell Diocesan History Project, and the Taylor family. – 
Historic England's Ancient Monuments List – Groves book, 'History of Nottinghamshire' – Pamphlet, History of St Edmund's Church, – 1963
Leaflet, – History of the Parish Church of St Edmund 1949 – Leaflet  entitled A Walk Around St Edmund's Church 1988 – 
Mansfield Chronicle 23rd October 1903 – Local historian the late Tony Barton's research. He had researched the quarries at Mansfield Woodhouse and he thought that the limestone, a bright light stone of a nice colour, used in the rebuilding of the church in 1304 was hewn from Priory Quarry. He explained to me that this quarry was a large site and could have been worked for centuries. It covered a large area from Sherwood Rise to Sherwood Street and would have closed when the railway sliced through in 1875. He thought that it was the best stone of all the quarries locally. – A leaflet written by Miss Emily Mary Need, undated. She was born in 1859 at Mansfield Woodhouse. – Niklaus Pevsner's book, 'The Buildings of England' A Norman piscina pillar was found in 1930. Another reference records it as being of Saxon origin from around 980AD. – 'Illustrated Dictionary of British Churches' to impropriate is to place tithes or ecclesiastical property in lay hands. –  Southwell Diocesan Churches Historical Survey, 2004. It was generally thought that Sir George Gilbert Scott was responsible for the mid-19th century restorations but more research shows that it was his former partner the architect William Bonython Moffatt who took on the task. – English Heritage pew assessment of St Edmund's Church by John Minnis in 2006 – Parish Magazines 1863 to 2018 – Nottingham Evening Post 7th August 1878 – Leaflet about the bells' rededication 1989 – Mansfield Reporter, 25th March 1932 – St Edmund's Church History Booklet by Reg Grinter, 2000 – Kelly's Business Directories 1922, 1932 and 1941 – Roy Waggott's research – Family memories
– Chad Newspapers – Listed Buildings List 1986 – A drawing of St Edmund's Church tower in 1877 by Raffles Davison – John McDonald's descendants, the Foster family, related the tale to Churchwarden Reg Grinter. A legilium is a type of lectern or desk with a slanted surface. A verge is a rod or staff carried before a Bishop or Dean as an emblem of office. A burse is a flat, square, fabric-covered case in which a folded corporal cloth is carried to and from an altar in church. A corporal is a cloth on which the vessels containing the consecrated elements are placed during the celebration of the Eucharist. A pyx is a vessel in which the consecrated bread for the Eucharist is kept. A chasuble is a sleeveless vestment worn by a priest – Booklet 'The History of the Quakers in Mansfield', by Jean Hunt, Ralph Holt and Janet Roberts.  We know the Stocks were on Cross Hill and that they were still there in 1870. But we have no photographs to further confirm that. Several photos have been taken of Cross Hill in Victorian times but I find it hard to believe that not one photo exists of the stocks. Can you help? Please don't be fooled by the spoof photo that exists and which is a copy of the stocks at Eyam in Derbyshire!
This article represents only a small fraction of the information available about our parish church of St Edmund, King and Martyr. If perhaps you the reader would like to add your memories or any information then please email us or make contact with the Old Mansfield Woodhouse Society at the Heritage Link in Mansfield Woodhouse Library on Church Street. We would really appreciate your input.