Historical timeline
In 1901 a tender for sinking two shafts for the Sherwood Colliery Company was submitted by mining contractors Charles Walker and John F. Eaton from Doncaster, Yorkshire, in which they agreed to provide all the materials and equipment necessary to construct and complete the job (sources & credits 1).
Operations at the new site called Sherwood Colliery started on Whit Tuesday and the manager Mr Fryer turned the first sod. There were about 50 men employed in clearing and preparing the ground for sidings close to the railway in the parish of Mansfield Woodhouse near to the boundary with Mansfield Borough (sources & credits 2).
Mansfield Woodhouse Urban District Council had been asked by the Colliery Company to supply the site with water. BThe council's terms were accepted by the Colliery's managing director Mr Francis Newman Ellis and they requested that the council make the arrangements at once to lay the pipes. The estimated cost of such was likely to be 3s.6d per yard (sources & credits 3).
Sinking operations began and at a formal opening ceremony performed on Monday 10th February 1902 a large metal bucket was used to raise a load of soil from what was to be the location of the upshaft. The dignitaries in attendance included Mr Ellis, Mr Frederick John Turner, land agent to the Duke of Portland and Mr Jesse Hind, the clerk of Nottinghamshire County Council. Of note was that the nearby residents of Woodhouse Road were displeased by the noise of the blasting (sources & credits 4).
There were many sinkers involved in the operation and as yet we know the names of little more than a handfulof them. They include Mr Dann and Mr Lovely, Robert Kemp, Mick O'Callaghan, Robert Bilton (Sinker Bob) and Edmund Simmonds and Albert Woods (sources & credits 5).
Within weeks of the start of sinking operations, tragedy had struck. On the evening of Tuesday 22nd April 1902 a very serious accident happened at Sherwood Colliery. Sinkers Albert Wood of Mansfield Woodhouse and Edmund Simmonds of Mansfield were both in Shaft One when a 30 pound balance weight which had been attached to the doors closing the top of the shaft, fell down a distance of about 35 yards on them. Albert was killed outright and Edmund died of his injuries the next morning at about 4am. Mansfield Woodhouse surgeon Mr C. J. Palmer was the examining doctor and the jury at the inquiry returned a verdict of accidental death (sources & credits 6).
Operations continued and the first coal was reached in the September of 1902. But they would have to sink much further to reach the main coal seams (sources & credits 7).
1903, one year after operations had begun and some 430 yards down, the sinkers reached coal seams measuring more than five feet in depth and signalling this effort a flag was flown from the headstocks (sources & credits 8).
Both shafts were 20 feet in diameter and mainly lined with bricks. The shafts were equipped with steam driven winding gear until being replaced with electrical driven ones in 1982 and 1983. There were up to eight boilers at different times through the years and the boiler chimney was eight foot in diameter and 150 feet high (sources & credits 9).
The first production was from the Top Hard Seam in 1903 and this was worked until exhausted in 1959. The Dunsil Seam was developed to supplement output and was opened in 1916 and worked through until 1957. From 1959 production came from the Deep Soft Seam and later from the Deep Hard, Piper, Yard and Black Shale Seams (sources & credits 9).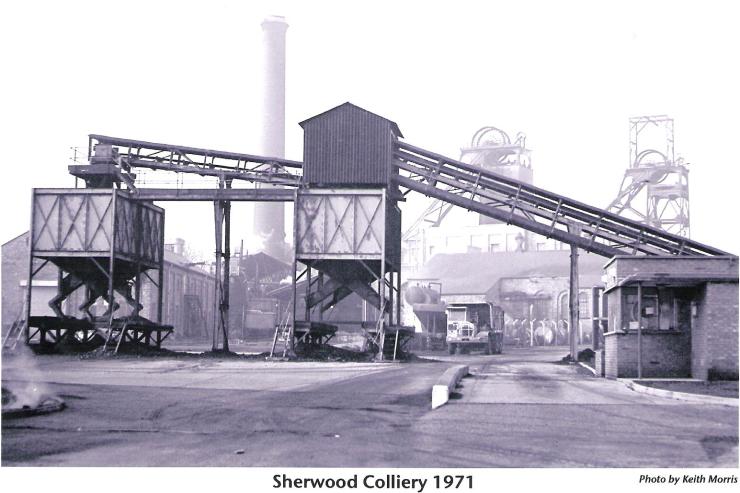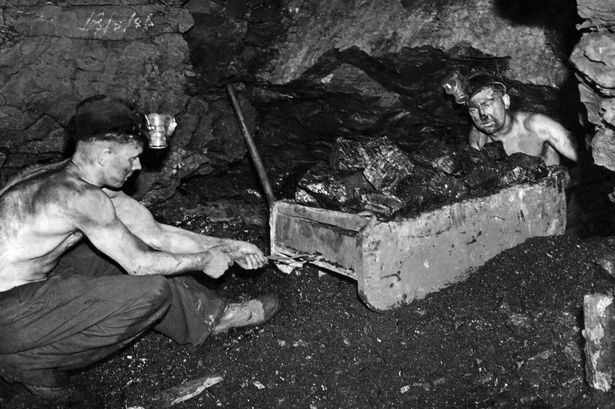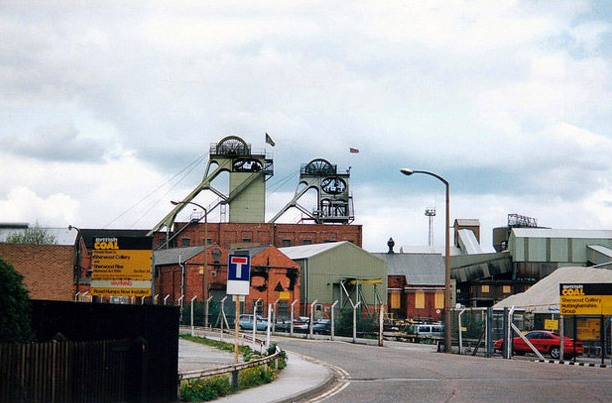 Sherwood Colliery Company asked the Urban District Council to provide two lights in Debdale Lane. The council's surveyor explained that gas pipes were not yet laid beyond the railway bridge. So Mansfield Corporation was asked to extend the gas main in Debdale Lane and the UDC could then fix the lamps in position (sources & credits 10).
Sherwood Colliery Company Chairman Mr Francis Newman Ellis lived at Debdale Dale Hall, Mansfield Woodhouse and the Managing Director, John Archibald Taylor, lived at The Manor House, Priory Road, Mansfield Woodhouse (sources & credits 11).
Sherwood Colliery Lads' Club was established in 1921 and provided physical training and recreation for about 80 boys (sources & credits 12).
Under the Welfare and Safety Scheme a sun ray clinic was provided by the Sherwood Colliery Company and opened there in 1927. The premises included treatment and consulting rooms, equipped with mercury vapour lamps and radiant heat lamps (sources & credits 12).
Mansfield Woodhouse Urban District Council had established a Maternity and Child Welfare Centre at the Adult School on Park Road (now the Resource Centre). By 1929 arrangements were made with the committee of Sherwood Colliery Sunlight Clinic for provision of artificial sunlight treatment to mothers and children attending the centre (sources & credits 13).
There were buildings for the blacksmiths, fitters, joiners, wagon repairers and electricians and a saw mill. A coal preparation complex was built in 1933 (sources & credits 9).
Mr Ellis officially opened the pithead baths in 1934. Also that year the canteen, swimming baths and fully equipped medical treatment centre were opened at the colliery. The swimming baths was subsequently taken over by Mansfield Corporation in 1966 (sources & credits 9). The official opening could possibly have been one of Mr Ellis's last public duties before he died in the October of 1934.
Offices were also built to accommodate the staff and clerical workers.
Overhead lines were installed to carry buckets of rubble from the colliery which then passed over Debdale Lane to the coal tip. Eventually the buckets were unable to cope with the amount and it was replaced by a 6ft wide gantry-style bridge with a 28ft span built across Debdale Lane which carried a rubble conveyor (sources & credits 14). That gantry was subsequently removed in the early 1980s.
Work began on building a new Sherwood Colliery Youth Centre in 1963 where activities included drama, table tennis, dancing and judo (sources & credits 15, 16).
In 1975 Sherwood Colliery miners set a world speed record for tunnelling underground. They completed 226.7 yards of roadway measuring 14ft by 10ft. The new tunnel some 1,200 yards long was scheduled to be a roadway for 108's face (sources & credits 17).
The men in the Deep Hard/Piper on 120's coalface created a record, producing 27,461 tonnes of coal during five days in the week ending 22nd May 1978 – the highest tonnage ever produced from a single face in a British coal mine (sources & credits 18).
In 1980 work began on a scheme at Sherwood Colliery which cost in the region of £5m to improve the ventilation and haulage facilities underground (sources & credits 19).
Two years later a £6m scheme which provided new access tunnels and a storage bunker underground was completed (sources & credits 20).
Sherwood Colliery then smashed the European production record for thin seam mining just a month after Mansfield Colliery set it. The miners produced 20,732 tonnes from one conventional coal face in a seam just one metre high (sources & credits 21).
Then the bombshell hit, British Coal confirmed in April 1991 that Sherwood Colliery would close within the next two years (sources & credits 22). In fact it was less than a year, for it was then announced that the colliery would close at the end of January 1992. A core workforce was kept on to carry out salvage and safety work and demolition of the headstocks, before the shafts were sealed and the site closed off. Ninety years of colliery history was coming to an end (sources & credits 23).
Brickworks
The shale, a waste product from the mining of coal, was used in brick making and Sherwood Colliery's brickyard had begun production shortly after the colliery was opened. Then in 1912 two kilns each with 18 chambers were built and production increased accordingly.
Extensions to the buildings continued and in 1925 the annual production peaked at about 8.5 million bricks. The average annual output of bricks made there during the 1930's was about 7.75 million per year. One kiln closed during the Second World War, but production continued, although on a smaller scale. Over the next 10 years or so production was reduced even further to an average output of 6.75 million bricks per year. The bricks were sold worldwide and were renowned for their strength and durability. But it was deemed that the brickworks were no longer economic and eventually were closed in 1958 (sources & credits 9).
Sports Clubs
Several sports clubs bearing the name Sherwood Colliery through the years have included a bowling club, a chess club, a cricket club, a football club, a swimming club and a water polo team (sources & credits 24).
Sherwood Colliery was closed in 1992 and the site was demolished shortly afterwards.  In 2012 a new estate was built, this included a new road layout, traffic lights and side street all of which covers any evidence of the former mining site.
In 2011 a Winding Wheel monument was installed to pay tribute to all of the miners who worked at Sherwood Colliery.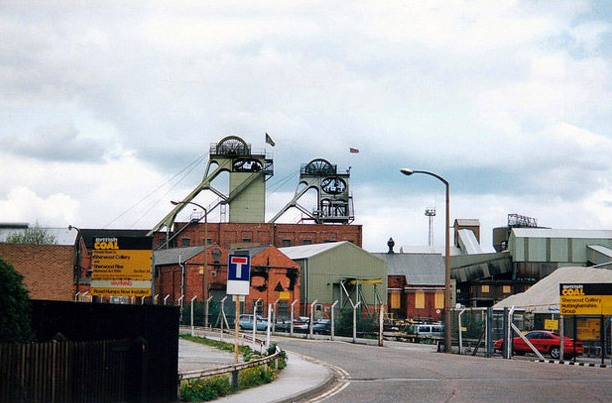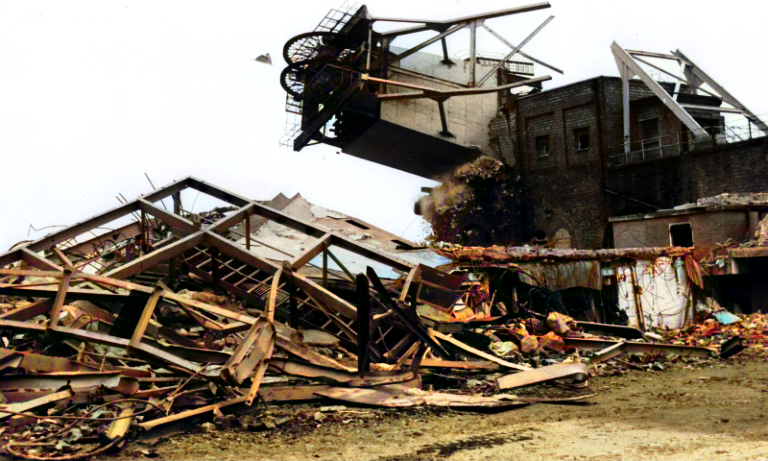 SOURCES AND CREDITS:
1 – THE TENDER SCHEDULE, 2 – MANSFIELD CHRONICLE NEWSPAPER, 7TH JUNE 1901, 3 – MANSFIELD WOODHOUSE URBAN DISTRICT COUNCIL MINUTES, MANSFIELD CHRONICLE OCTOBER 4TH 1901, 4 – MANSFIELD CHRONICLE NEWSPAPER FEBRUARY 14TH 1902, 5 – LOCAL PEOPLE'S FAMILY MEMORIES, 6 – MANSFIELD CHRONICLE NEWSPAPER APRIL 25TH 1902 AND MAY 2ND 1902, 7 – MANSFIELD CHRONICLE NEWSPAPER SEPTEMBER 19TH 1902, 8 – MANSFIELD AND NORTH NOTTS ADVERTISER NEWSPAPER 1903, 9 – NATIONAL COAL BOARD ARCHIVES, 10 – MANSFIELD CHRONICLE NEWSPAPER FEBRUARY 5TH 1914, 11 – 1923 COLLIERY YEAR BOOK AND COAL TRADES DIRECTORY, 12 – SHERWOOD COLLIERY WELFARE AND SAFETY FIRST WORK INFORMATION, 13 – MANSFIELD WOODHOUSE URBAN DISTRICT COUNCIL GUIDE 1929, 14 – MANSFIELD CHRONICLE NEWSPAPER, 15 – T. P. WOOD'S ALMANAC 1964, 16 – MANSFIELD DIRECTORY, 1968/69, 17 – CHAD NEWSPAPER OCTOBER 16TH 1975, 18 – CHAD NEWSPAPER MAY 1978, 19 – CHAD NEWSPAPER JULY 7TH 1980, 20 – CHAD NEWSPAPER OCTOBER 28TH 1982, 21 – CHAD NEWSPAPER MAY 7TH 1987, 22 – CHAD NEWSPAPER APRIL 10TH 1991, 23 – CHAD NEWSPAPER JANUARY AND NOVEMBER 1992, 24 – PEOPLE'S MEMORIES, 25 HEALEY HERO.
Retired mining surveyor Bob Bradley has researched the mining industry and the collieries. His excellent website called www.healeyhero.co.uk provides information about Sherwood Colliery including numbers of men employed there through the years, output figures, etc.